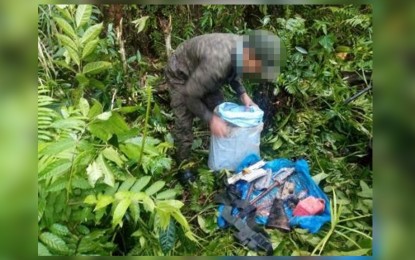 TACLOBAN CITY – The Philippine Army has recovered several anti-personnel mines (APMs), firearms, and ammunition on the outskirts of Borongan City, Eastern Samar as revealed by a former fighter of the New People's Army (NPA).
Among the items seized on Monday were 46 APMs, one M16 rifle, three magazines, 76 rounds of ammunition, one bandolier, and a backpack.
APMs and firearms had been buried in the mountains of upland Pinanag-an village in Borongan City, near the boundary of Basey, Samar.
"According to the former rebel, due to the good treatment of the soldiers toward him, and unending support from the local government unit of Borongan City and other government agencies, he decided to surrender the remaining firearms and APMs to the authorities," said Capt. Arnold Arias, spokesperson of the Army's 78th Infantry Battalion, in a phone interview on Tuesday.
The military refused to disclose the name and aliases of the former rebel who yielded to authorities in 2021.
He has been an active member of the Citizen Armed Force Geographical Unit Active Auxiliary and a member of the army's speaker's bureau.
He is also one of the recipients of local and national interventions supported by the local task force to end local communist armed conflict.
"The surrender of the firearms and anti-personnel mines is a manifestation of our proper handling of our former rebels. The effectiveness of the whole-of-nation approach wherein the collective efforts of the task force have provided the surrenderers with immediate support and assistance," Arias told the Philippine News Agency.
The area where the firearms and APMs were hidden is near the site of a terrorist attack in Pinanag-an village where six soldiers and 20 others from the government were hurt when rebels detonated APMs on Nov. 11, 2019.
Through a whole-of-nation approach, the village has been cleared from NPA threats in 2021.
Meanwhile, the Army's 20th Infantry Battalion based in Northern Samar reported that another rebel surrendered on Tuesday along with his firearms.
The military identified the surrenderer as Edwardo Capoquian, 41, a resident of Catubig, Northern.
He turned over a revolver, two magazines of .45 caliber, six empty shells, and one live ammunition of .357.
The Communist Party of the Philippines (CPP)-NPA is listed as a terrorist organization by the United States, European Union, the United Kingdom, Australia, Canada, New Zealand, and the Philippines.
The Anti-Terrorism Council also formally designated the National Democratic Fund as a terrorist organization on June 23, 2021, citing it as "an integral and inseparable part" of the CPP-NPA that was created in April 1973. (PNA)