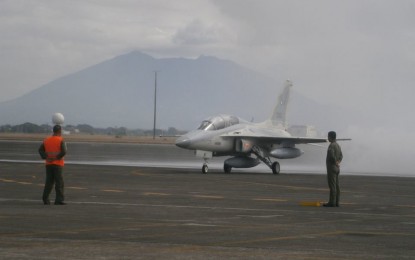 MANILA – The Philippine Air Force (PAF) is mulling to acquire more advanced versions of South Korea's Mach 1.5 capable FA-50 light combat aircraft.
"Yes, it is an option. The FA-50s is a good lead-in trainer fighter aircraft na rin, halos multi-role, pwede siyang mag-air-to-ground (it can be considered almost as a multi-role aircraft as it can do air-to-ground missions) or air-to-air. It provides a good training opportunity for the pilots to step up to higher performance aircraft," PAF chief Lt. Gen. Connor Anthony Canlas Sr. said in a media interview on Monday.
Recently, the Korea Aerospace Industries (KAI) bared its plans to upgrade the range and capabilities of its FA-50 aircraft by increasing its fuel and weapons carrying capacity.
The PAF has 12 FA-50s which it acquired from KAI for PHP18.9 billion.
These aircraft are now called FA-50PH and are now used by the PAF for its 5th Fighter Wing.
The delivery of the aircraft began in November 2015 and was completed in May 2017.
The FA-50PH aircraft had its baptism of fire in the Marawi City campaign where it was heavily used for close-air support mission roles along with the venerable OV-10 "Bronco" turbo-prop attack aircraft, SF-260 light bombers, and various attack helicopters of the PAF.
It has a top speed of Mach 1.5 or one and a half times the speed of sound and is capable of being fitted with air-to-air missiles, including the AIM-9 "Sidewinder" air-to-air and heat-seeking missiles aside from light automatic cannons, and bombs. (PNA)