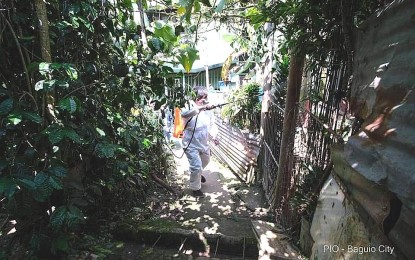 BAGUIO CITY – The local government has decided to adapt its coronavirus disease 2019 (Covid-19) dashboard for its anti-dengue drive to manage rising cases in the city.
"The HSO is shifting its gears using the same data analysis tool and protocols in managing the coronavirus disease 2019 (Covid-19) cases to address dengue cases, particularly the regular publication of cases for public awareness which will be called the dengue dashboard," Rowena Galpo, the chief city health officer, said on Monday.
She said like in their Covid-19 daily information dashboard, the city's risk communications team will also be publishing dengue cases and the location of clustered cases to help the public become vigilant in keeping their homes and surroundings clean.
She claimed that there will also be prompt management and referral of dengue cases to various health facilities, if needed, apart from the monitoring of dengue outpatients.
There will also be an inventory of dengue medicines and stocking of the needed supplies to ensure the availability of the medicines that will be provided to the dengue patients when necessary.
"Check out the social media page of the city to be informed and to be reminded of the 4-S in preventing dengue," said Aileen Refuerzo, chief information officer.
She also said that the city government has mobilized the Barangay Anti-Dengue Brigade to involve the community as the incidence of dengue shows a spike.
Through Memorandum 105-2022, Mayor Benjamin Magalong ordered village officials to mobilize their respective anti-dengue brigades and submit action plans, which should include a surveillance report of sites identified as dengue breeding areas in their jurisdictions.
Magalong gave the 128 village officials until June 17 to submit the report to the Special Services Division of his office and the city's Health Services Office (HSO).
The mayor also asked for the submission of a monthly report of dengue cases beginning January 2022.
He also reiterated an earlier order for the conduct of barangay-wide weekly cleanup drive activity in all common and public areas within their jurisdictions.
Refuerzo said that the order is aimed at further drumming up effort to avoid more cases, which traditionally occur in the third quarter of the year, the peak of the rainy season.
The HSO earlier said 268 cases have been reported from January to June 8, 2022, more than double the 124 cases recorded in the same period in 2021. Last year, the city had a total of 1,035 dengue cases with five deaths.
The city has also logged clustering of cases in at least 13 of the 128 villages prompting the city to spray.
The Sanitation Division of the HSO also started anti-dengue spraying operations in targeted barangays, particularly those with a critical number of cases. (PNA)