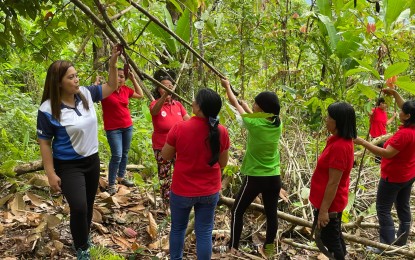 DUMAGUETE CITY – Hopes are running high for former "kaingineros" or slash-and-burn farmers in Valencia, Negros Oriental, who have shifted to planting cacao trees and are now rejuvenating them as they are reassured of a new market that has emerged.
Organized into the Puhagan Farmers Association or PUFA by the Energy Development Corporation (EDC), these cacao planters are currently undergoing technology training by the Municipal Agriculture Office (MAO) of Valencia and some experts on how to rejuvenate their trees to ensure good quality cacao beans for a soon-to-rise local chocolate bar factory.
"Together with other partners, the rejuvenation covers hundreds of cacao trees that are over ten years old which started out as our reforestation project but we have now discovered that it can become a social enterprise for these farmers," Norreen Bautista, EDC-Negros corporate relations department head, told the Philippine News Agency on Tuesday.
An inventory of the cacao trees was also done recently, she said.
"Thankfully, we have also met some partners, like 'cacao king' Val Turtur, who has generously imparted his knowledge in cacao farming," Bautista said.
The PUFA will be the pilot of 11 associations of cacao entrepreneurs who have planted an aggregate total of more than 22,000 cocoa trees at the foot of Mt. Talinis and its perimeters.
The new market is the Mt. Talinis Dark Chocolate, a venture of a few individuals and partners who have developed the chocolate bar to be registered with the Department of Trade and Industry as Valencia's "One Town, One Product".
It has guaranteed to buy the cacao beans from these farmer associations provided they are able to meet the prescribed standards for making chocolate.
New social entrepreneurs
These farmers who previously engaged in "kaingin" or the slash-and-burn technique of clearing underbrush and trees at the foothills of Mt. Talinis have gone a long way in transitioning to now being social entrepreneurs and forest guardians as well.
After they were organized, they are now cultivating government-owned forestal land at the base of Mt. Talinis, also known as the Cuernos de Negros (Horns of Negros) mountain range.
Lina Enovino, PUFA president, in an interview, said she was only 15 years old when residents in that village, including her parents, were organized in 1994 to legitimately cultivate land to prevent deforestation due to "kaingin".
Being a host community of EDC, which owns and operates the geothermal power plants in Valencia, the PUFA and other farmers' associations were formed and were provided the necessary skills training on farming and other agriculture techniques.
Enovino said they planted fruit trees, non-fruit bearing trees, vegetables, and rattan palms, to convert the forest clearings that were burned into more productive areas that would benefit both humans and the environment.
Over the years, more "kaingineros" became legitimate farmers earning a decent living and became protectors of the forest after learning of the destruction that slash-and-burn brought to the environment, she said.
"We also help guard the forests now to ensure that no 'kaingin' activities will flourish", she added.
Cacao farming gains ground
The farmers' associations in Valencia depended largely on income from vegetables, fruits, and rattan through the years, as cacao beans were not a reliable source of livelihood yet due to improper techniques of cultivation, Envino said.
The trees did not bear as much fruit, and if there were any, they were infested with bugs, she noted.
PUFA alone has more than 500 cacao trees, planted on one hectare of government-owned forestland sitting on EDC's development block.
Envino said the farmers earned a measly and irregular income from dried cacao beans that they sold as "tablea" or roasted, ground, and molded 100 percent pure cocoa in blocks or other shapes without other ingredients added.
At times, they would just prepare them into chocolate drinks for their own consumption or the local market, she said.
The absence of correct information and proper technology in caring for the cacao trees resulted in the farmers not paying attention to what would now become a highly-productive endeavor with the entry of a proposed local dark chocolate bar factory in Valencia.
"But now, we have something to look forward to and we are excited," she said.
OTOP production and marketing
Just recently, the Valencia local government unit (LGU), EDC, the Negros Oriental Chamber of Commerce and Industry (NOCCI), and a few other partners announced that they will be launching the first-ever locally made dark chocolate in the province.
Conceptualized several years ago by NOCCI and its then-president, Dumaguete-based businessman Edward Du, the project is now awaiting legal and other documentary requirements before a chocolate factory can be established in Valencia.
Du said that incumbent Mayor Edgar Teves has given his thumbs up to support local legislation – the first of its kind in the province – to produce and market a chocolate bar made of the finest cacao beans from local farmers.
Once the ordinance is out, a "conglomeration" of local partner-owners will seek the approval of the Food and Drug Administration (FDA) to begin the manufacturing of a dark chocolate bar that is 70 percent pure chocolate and 30 percent sugar.
"There are no additives and other ingredients added, and we have already prepared some samples at a demo farm as we continue to fine-tune the final product," he said.
A demo farm in Barangay Bong-ao, Valencia, owned by former EDC Negros Oriental manager Wilfredo Algopera, will be the site of the factory.
In fact, some equipment have already been bought for the manufacture of the chocolate bars.
"The chocolate factory will be a source of regular income now for our cacao farmers at the foothills of Mt. Talinis as they will be reassured of steady and sustained bulk orders of cacao seeds from the manufacturers," Du said.
Cacao farm rehabilitation and technical training
To ensure that the cacao farmers are equipped with the proper skills in cultivating and maintaining their cacao trees to produce quality beans, NOCCI and EDC have asked the Valencia Municipal Agriculture Officer, Lindon Escalante, to help in the rehabilitation phase.
Escalante said they will create a federation of cacao farmers and provide them assistance such as rehabilitation, technical know-how, and training in land preparation, fertilization, and production.
"Cacao may be considered unfriendly to the environment because we apply chemicals like fertilizers and pesticides but we have interventions. This is done through good agricultural practices or balancing fertilizers," he said.
The Municipal Agriculture Office also monitors levels of traces of elements and the threshold of economic yield.
Cacao with five percent damage from bugs does not need to be applied with pesticides while vermiculture facilities as a source of organic fertilizers are stationed in each barangay, he said.
Together with Mt. Talinis Dark Chocolate Ventures Inc. and its partners, the MAO reassured of full support to the PUFA as the "cacao model farm", he said.
A dedicated team will be deployed for the rehabilitation and rejuvenation of the trees, the conduct of training and workshops, and the distribution of free cacao seedlings and provision of fertilizer subsidy, he added.
Bright future from a 'dark' source
Envino and her co-farmers of PUFA are looking forward to a brighter future with the dark chocolate business coming into full swing once all the paperwork and requirements are ready.
She said this will be an incentive for them to nurture their cacao trees with proper guidance from agriculture experts now that they have been reassured of a steady source of income.
"We no longer have to worry about having to sell "tablea" as we have been promised that if we produce the best cacao seeds, the manufacturers will buy from us by bulk," she said.
In the meantime, Envino said that being stewards of the environment and protectors of the forests for years will finally come to fruition through the cacao trees and their fruits. (PNA)