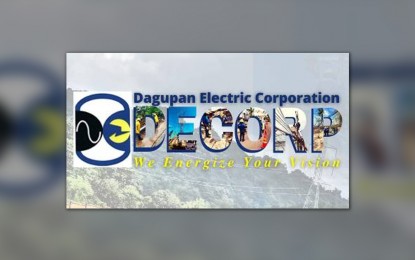 DAGUPAN CITY – The Dagupan Electric Corporation (Decorp) will integrate solar and geothermal power plants as other energy sources for its distribution facility starting this year, and provide environmentally-friendly sources.
Decorp spokesperson Randy Caspillan said the solar power plant in Barangay Erfe in Sta. Barbara town in Pangasinan will soon provide additional electricity to the company, especially during peak season when power costs rise.
"The operation of the solar power plant will start this month or next month. It could generate up to 20 megawatts of electricity that will be exclusively provided to Decorp," he said in a phone interview on Tuesday.
Caspillan said they are just finalizing the process with the Wholesale Electricity Spot Market and the National Grid Corporation of the Philippines before the plant could be energized.
"It could be utilized by Décorp when the demand for electricity is high especially during the hot season. We could tap the plant as through the embedded generation, it will supply exclusively to Decorp alone," he said.
Caspillan said the company has also signed a deal with a geothermal power company to replace the other power plant whose contract with them will end this October.
"It is another form of renewable energy source and we got a low price, lower than our previous supplier," he said.
He added they are still processing the documents for the implementation of the deal.
Decorp's sources of electricity, which it transmits to the consumers, are hydro and coal-fired power plants.
"Hopefully, with our new suppliers, we would be able to decrease the price of the generation charge," Caspillan said.
Meanwhile, Decorp announced on its Facebook page that there will be an increase in its charges from 11.86 per kilowatt-hour (kWh) to 12.88 per kWh this month.
"The generation rate increase is the result of the rising fuel cost in the world market," Caspillan said.
The company assured, however, there was no increase in its distribution, supply, and metering charges.(PNA)