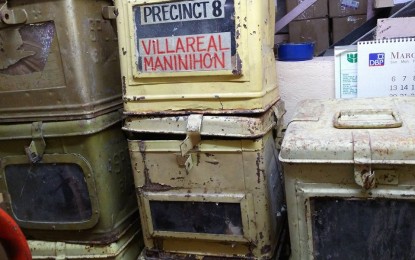 DUMAGUETE CITY – The Commission on Elections (Comelec) in Negros Oriental has started the inventory of ballot boxes to be used in the barangay and Sangguniang Kabataan (SK) elections this coming December, a key official here said Tuesday.
Lawyer Lionel Marco Castillano, Comelec-Negros Oriental provincial election supervisor-designate, told the Philippine News Agency that he has directed the election officers (EOs) to begin the inventory of the ballot boxes to determine which are still in good condition and serviceable.
"I gave the directive last Thursday for the EOs to coordinate with the treasurers in the towns and cities where they are assigned to inventory these yellow ballot boxes so that we can make a request with the Comelec central office for new ones if needed," Castillano said in mixed English and Cebuano.
He said the ballot boxes are necessary for the barangay and SK polls since voting will be done manually unlike in the May 9 national and local elections.
For the ballot boxes that are still serviceable, they will have to be repainted yellow, which is the official color prescribed by the poll body, he said.
Meanwhile, Castillano said they are awaiting guidelines from the Comelec central office on the registration of voters for the barangay and SK elections although they are already undertaking some administrative and operational preparations.
"The first step is for the registration of voters, however, we have not yet received word from our central office on the matter," he said.
For the barangay elections, qualified voters 18 years old and above who have not registered previously with the Comelec are encouraged to sign up, otherwise, if they missed voting for two consecutive polls, they will be de-listed, he added.
For the SK polls, youngsters aged 15 or turning 15 on or before December 5, the day of the elections, are urged to register with the Comelec once registration begins.
The barangay and SK elections will be less tedious for the Comelec as the teachers serving in the electoral boards are the ones proclaiming the winners, Castillano said. (PNA)