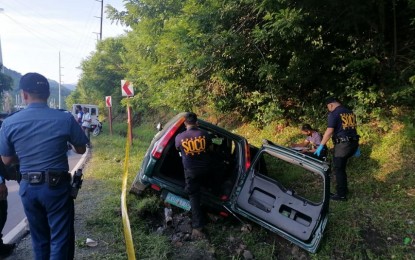 MANILA – Two suspected kidnappers were killed in an encounter with anti-kidnapping operatives of the Philippine National Police (PNP in Pililia, Rizal early Tuesday.
Citing a PNP Anti-Kidnapping Group (AKG) report, officer-in-charge Lt. Gen. Vicente Danao Jr. identified the suspects killed in the encounter around 2:30 a.m. as Rolly Castillo and Jerameel Ventura.
The suspects were behind the abduction of a 21-year-old student and his cousin and a 34-year-old entrepreneur, who were rescued in another location a few hours before the encounter.
Danao said the victims were kidnapped at gunpoint in Tondo, Manila last June 4 where the kidnappers initially demanded a PHP100-million ransom in exchange for their release.
He said a breakthrough in the investigation came when the kidnappers agreed with the counteroffer made by the victims' families.
A ransom pay-off was set in Calamba City, Laguna on Monday night but was later diverted to Pakil, Laguna where the kidnappers received the ransom while the victims were freed in the town of Famy, Danao said.
The PNP-AKG operatives tracked down the kidnappers' getaway vehicle somewhere in Pililia where an armed encounter ensued, resulting in the death of the two suspects and the wounding of an AKG member.
Recovered from the encounter site were one Honda CRV, one .45 caliber pistol, one caliber 9mm Taurus pistol, one Ingram machine pistol, several live ammunition, several identification cards, two handcuffs, two cellular phones, and several medicines.
The recovered pieces of evidence are now under the custody of the PNP Forensic Group for examination. (PNA)