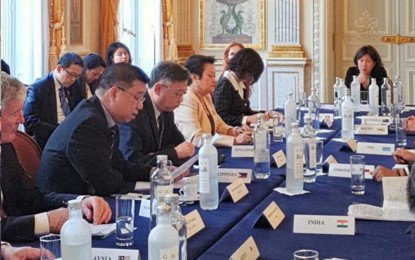 MANILA – The Department of Trade and Industry (DTI) has reaffirmed its support for the Indo-Pacific Economic Framework (IPEF), an initiative of the United States to boost its economic engagement with Indo-Pacific countries, as the country participated in a ministerial meeting in Paris, France.
In a statement Tuesday, the DTI said trade officials met with US Trade Representative Ambassador Katherine Tai and trade ministers of countries under the IPEF during an informal ministerial meeting in Paris last June 11.
DTI Undersecretary Ceferino Rodolfo represented DTI Secretary Ramon Lopez in this event.
During the meeting, Rodolfo underscored the country's support to the IPEF, noting that the pillars of the framework are aligned with the Philippine government's policies and reforms recently undertaken.
"We see the IPEF as a framework providing incentives to our stakeholders, tied up with the reforms that we are already undertaking domestically, through having a mechanism to link the Trade Pillar with pillars on supply chain resiliency and green energy transition. We also see this as a vehicle to spur investments from the private sector in these areas," he said.
Among the four pillars of IPEF that will be put on the negotiation table include trade; supply chain; clean energy, decarbonization, and infrastructure; and tax and anti-corruption.
In April, Lopez met with Tai in Washington D.C. to express the country's interest to be part of the US-led IPEF.
Last month, the country joined the US along with Australia, Brunei, India, Indonesia, Japan, South Korea, Malaysia, New Zealand, Singapore, Thailand, Vietnam, and Fiji in the launching of the framework in Tokyo.
Rodolfo highlighted that some of the framework's participants are the Philippines' major trading partners, which include the US, Japan, South Korea, Singapore, and Thailand.
In 2021, total Philippine trade with IPEF partners amounted to USD106.89 billion, or 53.7 percent of the country's total trade. (PNA)