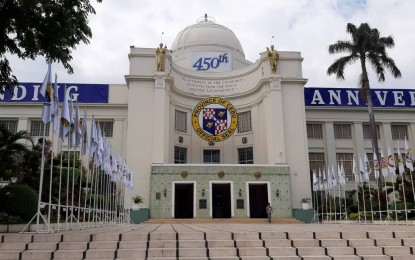 CEBU CITY – The Cebu Provincial Board (PB) on Tuesday passed an ordinance (EO) adopting the executive order issued by Governor Gwendolyn Garcia making the wearing of face masks in open spaces optional.
The measure was passed unanimously in a special session adopting EO 16 issued on June 8 rationalizing the use of face masks in the province.
Out of 17 PB members, 13 were present when the measure was passed while the others were reportedly on their post-election vacation leaves. Of the local lawmakers who attended the session, no one objected.
The local legislative body adopted the measure after roughly 30 minutes of the first, second, and final reading.
PB's committee of laws chair, John Ismael Borgonia, said the new ordinance gives a legal basis for the police not to apprehend residents who will be found not wearing face masks while outdoors.
The ordinance runs in contrast with the orders of the Department of the Interior and Local Government to the authorities here to arrest those who will defy the health protocols issued by the Inter-Agency Task Force for the Management of Emerging Infectious Diseases (IATF) as part of the responses in the fight against coronavirus disease 2019 (Covid-19).
"Well, people can go out of their respective homes and they should no longer be afraid of being arrested by law enforcers in their respective barangays and municipalities. We have an ordinance passed," Borgonia told reporters.
PB's health committee chair Kerrie Shimura supported the ordinance adopting the EO signed by Garcia.
"The measure is not an abolition but rather it provided options (to wear or not the face mask) for individuals in Cebu province with certain conditions," Shimura said.
The ordinance said, "as a necessary step towards the new normal, there is a need to rationalize the requirement on wearing of masks".
It cited Section 16 of Republic Act 7160, the Local Government Code, which grants local government units the exercise of express and implied powers necessary or incidental to the promotion of the general welfare.
The ordinance states in Section 3 that "wearing of face masks shall be required in closed and/or air-conditioned spaces" while "use of face masks shall be optional in well-ventilated and open spaces".
"However, persons are still highly encouraged to continue to wear the masks especially in crowded outdoor areas," a part of Section 3 paragraph (b) read.
It mandates, however, that "persons who are unwell with symptoms of Covid-19 such as fever, cough, runny nose are required to wear a mask at all times if they need to leave their homes."
Although the ordinance is an adaptation of Garcia's EO, still it orders the governor to "promulgate the necessary implementing rules and regulations to carry out" its provisions.
"All components (LGUs) of the Province of Cebu and the Cebu Provincial Police Office are mandated to faithfully enforce the provisions of this ordinance," it said. (PNA)