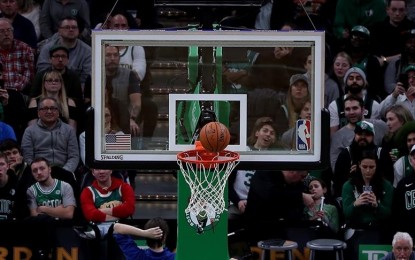 ANKARA – The Golden State Warriors on Monday beat the Boston Celtics 104-94 in the 2022 NBA finals' Game 5 as the San Francisco-based team need only a win to seal this season's title.
The Warriors took the home victory with their dominance in the fourth quarter, scoring 29 points against the Celtics.
Meanwhile, Boston racked up 20 points.
Canadian small forward Andrew Wiggins led the Warriors, scoring 26 points at the Chase Center in San Francisco.
Wiggins grabbed 13 rebounds as well.
Another Warriors member Klay Thompson clocked up 21 points.
Golden State superstar Stephen Curry had 16 points, but the 34-year-old point guard was unable to hit any three-pointers. Curry shot 0 for 9 from beyond the arc.
It was Curry's first game without any three-point field goal since Nov. 8, 2018.
Celtics star Jayson Tatum was the Game 5's top scorer with 27 points. The 24-year-old also had 10 rebounds.
Marcus Smart scored 20 points for the Celtics, while Jaylen Brown added 18 points for the visitors.
Brown had nine rebounds but fell short of a double-double.
Meanwhile, the Warriors trio Curry, Thompson and Draymond Green have won 20 NBA finals games together, beating the San Antonio Spurs' ex-trio Tim Duncan, Tony Parker and Manu Ginobili over the last 30 years.
Duncan, Parker and Ginobili held the previous record of 19 wins in the finals' history.
The Warriors, who went up 3-2 in the finals, will visit the Celtics in Game 6 at Boston's TD Garden on Thursday.
If the Warriors beat the Celtics in their next game, they will be crowned champions. (Anadolu)