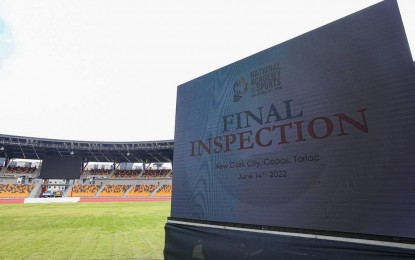 MANILA – President Rodrigo Roa Duterte on Tuesday hoped that the golden era of Philippine sports would be sustained even beyond his term.
In a speech delivered in Capas, Tarlac, Duterte expressed optimism that the first batch of the National Academy of Sports' (NAS) student-athletes would be motivated to compete and represent the country in the global sports arena.
This, as Duterte lauded the creation of NAS which is designed to be a "world-class" institution that provides educational advancement and development of high-quality sports programs, training and experience to student-athletes.
"Let [us] continue to work with one another to sustain our present golden era of sports—even beyond my term—keeping in mind that the legacy we are building will not be ours alone but also for the succeeding generations to come," he said during the inspection of NAS at the New Clark City in Tarlac.
NAS, which was established by virtue of Republic Act (RA) 11470 inked by Duterte on June 9, 2020, aims to identify and promote academically competent and athletically talented natural-born Filipino youth from all sectors, including those who are part of the indigenous communities, persons with disabilities, and other marginalized groups.
The national sports academy is an attached agency of the Department of Education (DepEd) mandated to offer a secondary education program, integrated with a special curriculum on sports.
NAS welcomed the 52 student-athletes when it opened its doors in September last year.
Duterte said he looks forward to the time when the pioneering batch of student-athlete scholars will become "well-rounded Olympians and Champions."
"It is, therefore, my hope and maybe my prayer that the pioneer batch of student-athletes become well-rounded Olympians and Champions who will carry our flag in the international sports arena and inspire a deep sense of patriotism among Filipinos," he said.
He issued the statement, as he recounted how Hidilyn Diaz made history when she won the Philippines' first-ever gold medal in the Tokyo Olympics in 2021.
"Despite or in spite of the competition's tremendous advantage, Hidilyn Diaz beat the odds and paved the way for more aspiring athletes who will fight and win for medals in this country. I am pleased that her feat has encouraged the public, especially the youth, to take notice of the many talented athletes who are making waves in international sports," he said.
Diaz is the first Filipino athlete to snatch the Olympic gold medal. Her feat brings an end to the Philippines' 97-year Olympic gold medal drought.
Duterte said Diaz's win inspired him to pursue projects that would help Filipino athletes develop further their sporting skills.
"It is thus an [opportune] time for me to help them maximize their potential with constant comprehensive projects and activities that promote the welfare and development of our athletes," he said.
Duterte also lauded NAS, the Bases Conversion and Development Authority, and the other government and private partners that contributed to the construction of the educational facility for student-athletes despite the "inherent" limitations brought about by the coronavirus disease 2019 (Covid-19) pandemic.
"This National Academy of Sports is envisioned to be a world-class facility that will serve as a forefront in our efforts to provide a conducive environment for the academic, sports training, and character development of our young athletes," he said. (PNA)