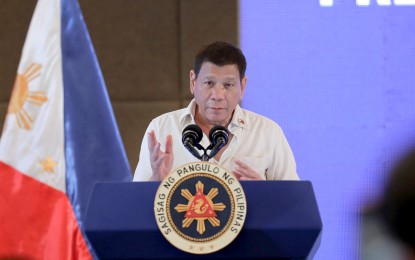 MANILA – President Rodrigo R. Duterte on Tuesday shrugged off criticism made by an "ex-justice" describing his administration's aggressive crackdown on illegal drugs as "clearly unconstitutional."
Duterte did not name the "ex-justice" but retired Supreme Court (SC) senior justice Antonio Carpio on Monday reportedly compared the killing of drug suspects to the killing of flies, noting that there is a need to end impunity so that it would never happen again.
"If it's unconstitutional, so be it. I will do it. I don't give a sh*t if you have to know," Duterte said in a speech after inspecting the main campus of the National Academy of Sports (NAS) in New Clark City in Capas, Tarlac.
Duterte said he disagreed with the remark made by the "ex-justice", reiterating again that the government could not go soft in its efforts to eradicate the illegal drug trade in the country.
"Mayroong isang torpe na ex-justice. Unconstitutional daw yung drug war. E sabi ko 'Adre, magkaiba ang libro natin' (There is a inept ex-justice. He says the drug war is unconstitutional. I said 'Adre, we're going by different books') You must have the wrong theories about humanities and all…Subukan mo dito sa trabaho ko (You should try doing my job)," he said.
He said the ex-justice may have a lot of academic accomplishments, but had no idea about the country's drug war situation on the ground.
"Para sa akin, bugok ka (For me, you are slow-witted). You are a scholar. I know you're from Davao, bright ka, valedictorian ka, okay ka. Pero hindi 'yan pwede (you're bright, you're valedictorian, you're okay. But that can't be). In reality, you have to come to terms with what is actually happening on the ground," he added.
He defended his drug war, noting that he never ordered law enforcement authorities to just shoot and kill drug suspects unless it put their lives at risk.
Duterte reiterated that he would take "full legal responsibility" for his anti-narcotics campaign as long as authorities acted in the line of duty.
"All you have to do, sabihin mo, 'Sino nag-utos 'sayo'? Sabihin mo si Duterte (Say when they ask, 'Who ordered you to do it?' Say it was Duterte). Nobody can question my love of country," he added.
Duterte also clarified that not once did he ask cops to harm or kill the innocent.
"I never said go out and do a shooting spree and kill all the human beings…only those who will destroy my country. And in doing drugs, sisirain mo talaga (you are really doing to destroy it)," he said.
He lambasted human rights groups for their concern over the killings of drug suspects, noting that they did not seem to be as interested when it came to the threat to the lives of police, military, and civilians.
"Have you ever considered the welfare of the country as against the criminals that I kill?" he asked.
In 2017, the SC started hearing oral arguments on petitions assailing the drug war that have been marred by killings of thousands of drug suspects.
A recent report of the Commission on Human Rights released last month also showed that the drug war showed "intent to kill" and used "excessive force" in its anti-illegal drug operations.
In November 2021, the International Criminal Court (ICC) in The Hague, Netherlands suspended its investigation into the alleged crimes against humanity attributed to Duterte's drug war to assess "the scope and effect of the deferral request" of the Philippine government.
The ICC's investigation covers the drug war under Duterte's watch, as well as alleged killings in Davao City between 2011 and 2016 when the President was still the mayor.
Duterte insisted that the ICC has no jurisdiction to probe the drug war because Philippine judicial processes are functioning.
The Philippines formally ended its ties with the ICC on March 17, 2019, or exactly a year after the scrapping of the Rome Statute. (PNA)