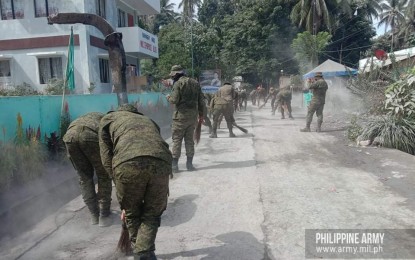 MANILA – Philippine Army (PA) units are helping other government agencies in "round-the-clock" ashfall clearing operations in areas in Sorsogon affected anew by the second phreatic eruption of Mount Bulusan on June 12.
"Troops of the 31st Infantry Battalion (31IB), 9th Infantry Division, hand-in-hand with other government responders, continue round-the-clock clearing efforts in barangays affected by the second phreatic eruption of the Mount Bulusan in Sorsogon," Army spokesperson Col. Xerxes Trinidad said in a statement Tuesday night.
He said the 31st Infantry Battalion, in cooperation with the Philippine National Police and Bureau of Fire Protection, cleared the thick ash that covered roads and houses in Barangay Lungib in Casiguran, Sorsogon.
Army troops and reservists promptly launched clearing efforts after the volcano spewed ash anew on June 12.
"(The) 9ID disaster response units and Army reservists – in close coordination with local disaster risk reduction and management offices and other government agencies – remain on alert for possible episodes of phreatic eruptions in the days ahead," Trinidad said.
Meanwhile, PA Chief, Lt. Gen. Romeo S. Brawner Jr., lauded the 9th Infantry Division disaster response teams and Army reservists for working round-the-clock to help eruption-stricken families and for the possible escalation of Mount Bulusan's alert level. (PNA)