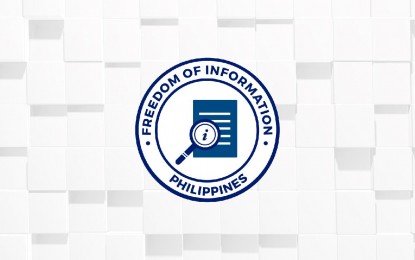 MANILA – Presidential Communications Operations Office (PCOO) Undersecretary and acting deputy presidential spokesperson Michel Kristian "Kris" Ablan believes that the Freedom of Information (FOI) policy under the administration of President Rodrigo Roa Duterte will be vital in ensuring transparency and accountability in the incoming administration of President-elect Ferdinand "Bongbong" Marcos Jr.
Ablan, who also serves as the FOI program director, hoped that PCOO, under the leadership of Press Secretary-designate Rose Beatrix "Trixie" Cruz-Angeles would continue the FOI policy of allowing public access to official documents and transactions in all departments and offices under the executive branch.
"Well, hopefully, transparency and accountability are key issues and concerns of this incoming administration and we believe that FOI will continue to be the beacon of transparency and accountability," Ablan said in an interview with CNN Philippines' "Politics As Usual."
Executive Order No. 2, Series of 2016 or the FOI Program was signed by Duterte on July 23, 2016.
The EO does not cover the legislature, judiciary, and local government units (LGUs) although it encourages them to observe the order.
Since 2016, Ablan has been pushing for the passage of the FOI bill that would ensure transparency and facilitate access to information and documents from all branches of government.
The FOI bill was first filed during the 12th Congress, but it has been bypassed.
Among the salient features of the bill are crafting a mechanism that will refer and transfer requests to appropriate agencies that should address the request and the creation of a records management system.
In January, Marcos vowed to push for absolute transparency on the statements of assets, liabilities, and net worth (SALN) of public officials.
He said he was also willing to make his own SALN open to the public.
Marcos, however, warned against the possibility that SALNs may be used for political purposes, such as how it was used to impeach the late Chief Justice Renato Corona.
He said requests for the release of a government official's SALN must be thoroughly examined. (PNA)