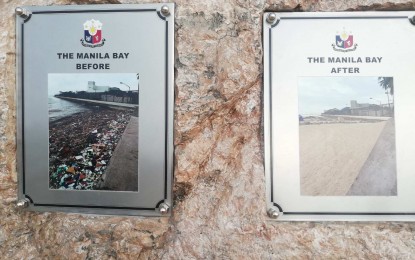 MANILA – It used to be the best location in the country to experience and capture amazing sunset views but over time, the Manila Bay in Roxas Boulevard became an eyesore.
The Duterte administration thus pushed for the Manila Bay rehabilitation program in consonance with the writ of Mandamus issued by the Supreme Court despite all the odds and the criticism on the rehabilitation and beautification of the area.
Now, it is no longer the government appreciating its improvement, but the people who are excited to experience a sort of "Miami" feel of a white beach within the metropolis.
Lani Combes of Quezon City was enjoying the view, the air, and the white sand on a lazy Tuesday afternoon while chatting with her mother over the phone as she described the "new" Manila Bay.
"Bago. Bagong Manila Bay, maganda, fresh , malinis, di kagaya ng dati na ano siya, malaking malaking pagkaka improve (New. New Manila Bay, beautiful, fresh, clean, unlike before, it is really a big improvement)," Combes said.
Trying to picture the old Manila Bay, she said, there is no comparison and she appreciates very much the effort placed by the government in making a difference.
"Hindi namin mai-cocompare yung dati sa ngayon, kasi puro basura to dati. Hindi makakaupo ng ganito (We cannot compare this from before. This was full of trash before. You cannot sit like this)," she added.
Manila Bay's dolomite beach is a 500-meter by 60-meter structure built by the national government, through the Department of Environment and Natural Resources (DENR) in partnership with the Department of Public Works and Highways (DPWH), with geoengineering interventions.
Manila Bay used to be the catch basin of all the wastes coming from the city and nearby areas.
Its waters contained not only high levels of fecal coliform bacteria from human wastes, but also wastes coming from nearby hotels, houses, and even hospitals.
Salvacion Calag, a resident from Marikina, was impressed at how the government rehabilitated the area.
"Hindi na katulad ng dati puro basura, kahit hindi kami palaging nandito pero malaki talaga ang pinagbago. Pagkaano naglalakad lang naman kami diyan hindi naman talaga kami nag iistay na matagal (It is no longer like before that was full of trash. We do not come here often but the improvement is tremendous. Before we just walk by and we do not really stay long)," Calag said.
She even brought with her 17-year-old granddaughter, Sofia, to also experience the place.
"Maganda kasi madaming tao, parang tourist spot na siya sa sobrang dami (It's beautiful because there are so many people, it's now like a tourist spot with many people coming)," Sofia said.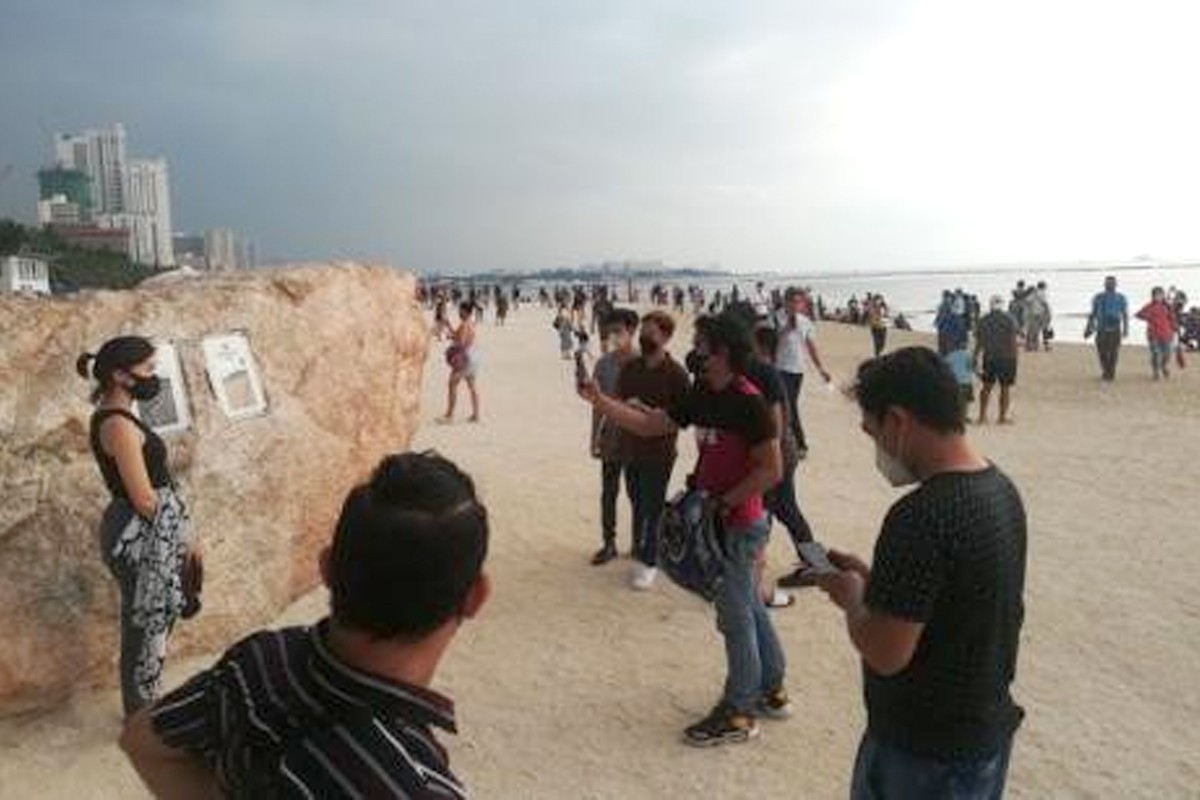 At the center of the dolomite beach is a big stone with a picture of the old Manila Bay and now.
To remind the people of the safety rules, such as wearing face masks and not throwing their garbage, DENR teams are in place, as well as members of the Philippine National Police for the maintenance of peace and security.
Husband and wife Ramil and Mary Grace Cadano traveled all the way from General Trias, Cavite to personally see the area, and they say it is worth the trip.
"Malaking improvement, mas napapasyalan ng mga mamamayan ngayon, makikita nyo naman na napakaraming tao, nagsasaya nag eenjoy at yung pinapangarap nilang pagbabago is nakakamtan na nila (It's a big improvement, people can now tour and take a stroll. You can see there are a lot of people, they are enjoying, the change they always wanted is here)," Ramil said.
Ramil said he was just happy that despite the criticisms, the government opted to push for the project.
He said Manila Bay used to be his regular route as he studied in one of the universities in Intramuros.
His wife Mary Grace urged him to visit Manila Bay and the dolomite beach to see the changes themselves.
"Napakaganda po, mas maganda kesa sa nakikita sa Facebook. Sabi ko sa kanya, pasyalan natin gusto ko makita ng personal, sulit naman, masarap sa pakiramdam, maganda sa paningin (It is very beautiful, even nicer from what I see in Facebook. I told him let's visit, I want to see it personally, and it's worth it, it feels nice, and the sight is beautiful)," she said.
While swimming is not yet allowed, families just enjoy sitting on the white sands while children play.
Cecil Mantes, who lives in Pasay, said it is the first time that they really enjoyed Manila Bay.
She said although they just live near, they did not go to Manila Bay as they did not see it worthwhile.
Now, she came with her family bringing with them their nephews and nieces.
"Enjoy kami na nandito kami ngayon tas nakita naming maganda siya, isang pamilya kami, kasama namin mga bata (We are enjoying and we saw it's beautiful, we are a family and we came with the kids)," Mantes said.
Meanwhile, Cadano hopes the government is able to maintain the area.
"Mensahe ko sa government is ipagpatuloy kung ano yung nasimulan ni Tatay Digong (My message to the government is continue what Tatay Digong has started)," adding that "Sana ma sustain nila yung ginawa na pagbabago dito (I hope they will be able to sustain the improvements here)". (PNA)