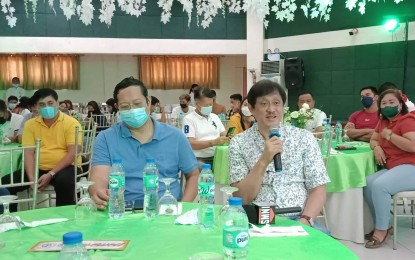 ROSALES, Pangasinan – Incoming Department of Agrarian Reform (DAR) Secretary Conrado Estrella III said the issuance of land titles to agrarian reform beneficiaries (ARBs), amortization, and support services for the farmers will be among his top priorities in the agency.
"We need to do a lot. The house needs an overhaul and we need to do house cleaning as well. But we can do it. And we will make the farmers, the agrarian reform beneficiaries more productive," he said in an interview on Wednesday.
Estrella said it is about time to issue the land titles and let the farmers do what they want to with their lands.
"Ngayon kasi hindi nila ma-develop dahil hindi naman negotiable instrument yong hawak nila dahil may primary mortgage (Now, they could not develop because what they have is not a negotiable instrument because there is a primary mortgage)," he said.
Estrella said the agency will also look to update the amortization table.
"As of now, no one could tell me if it is updated or not. If it will be updated, we might see that the admin(istrative) and political cost and everything might be higher and so it is much better to condone the loan instead," he added.
Estrella further said among his priorities is to make the ARBs be a big part of the consumer group that has a "very strong purchasing power".
"To help them, I remember my grandfather was repeatedly telling me, it is not enough to give them land only, we should also give them support services," he said.
Estrella's grandfather Conrado Estrella Sr. was the agrarian minister during the administration of former President Ferdinand Marcos Sr.
Estrella said during the thanksgiving party here Tuesday that incoming President Ferdinand Marcos Jr. gave him a simple order which is for him to follow the footsteps of his grandfather and the late Marcos Sr.
He said Marcos Jr. gave his commitment to full support services and make the farmers productive.
"We could fix all these in the 2023 budget and I know where to get the appropriate funds and where we could get it," he added.
Estrella served as one of the Deputy Speakers of the House of Representatives in the 18th Congress prior to his appointment as DAR Secretary. (PNA)