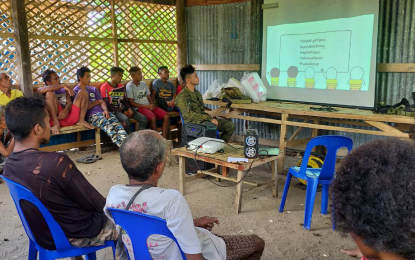 BALER, Aurora – The Philippine Army is stepping up its information and education drive to counter the deceptive recruitment strategies of the Communist Party of the Philippines-New People's Army (CPP-NPA), particularly among the indigenous peoples (IP).
Col. Enrico Gil C. Ileto, commander of the 84th Infantry Battalion (84IB) under the 7ID, said on Wednesday that aside from students, the IPs are among the most vulnerable sectors for deception and exploitation by the communist terrorist groups (CTGs).
To save the IPs from CTGs' recruitment and exploitation, Ileto said an awareness campaign was conducted on Monday in General Tinio town in Nueva Ecija province, attended by some 45 Dumagat and Aeta tribe members.
2nd Lt. Knarl Vincent Tiongson, platoon leader of Bravo Company, 84IB, cited the need to prevent the IPs from being recruited by CTGs through the conduct of an information and education campaign.
"Kailangan natin mamulat ang mga tao at mga kapatid nating IPs na andito sa mga laylayan with regards sa deception ng CPP-NPA sapagkat napaka delikado kung sila ay ma-involve sa ganitong klasing mga organisasyon na makakapagpahamak ng buhay nila (We need to make the people and our brother and sister IPs, who are on the fringe, to become aware with regard to the deception of the CPP-NPA because it is dangerous for them to get involved in this kind of organization that could ruin their lives)," he said in an interview.
Daly Carpio, an IP student and one of the participants, thanked the 84IB for sharing information about the deceptive recruitment of the CTGs.
"Gusto po naming makapagtapos ng aming pag-aaral at ayaw namin na makuha kami ng kabilang panig (CPP-NPA) at matutulad sa mga kabataang nasira ang buhay dahil sa NPA (We want to finish our studies and we do not want to be recruited by the other side (CPP-NPA) and be like the youth whose lives were destroyed due to the NPA)," she said.
Meanwhile, Ileto appealed to the IPs to continuously support the government in its quest to end insurgency in the country.
On the other hand, Maj. Gen. Andrew D. Costelo, 7ID commander, lauded the initiative of the 84IB as he assured that the troops will continue to conduct peace and development programs in partnership with other government agencies to prevent the recruitment of communist terrorists in vulnerable areas.
"As we said, prevention is better than cure. Let us raise the awareness of the people on how dangerous it is to be deceived by the CTGs. Let us help the people to avoid the circumstances where they could be recruited by the CPP-NPA. The 7ID and its line units are always here to protect our people no matter what the cost," Costelo said.
The CPP-NPA, which has been waging a five-decade armed struggle against the government, is listed as a terrorist organization by the United States, the European Union, the United Kingdom, Australia, Canada, New Zealand, and the Philippines.
The Anti-Terrorism Council also formally designated the National Democratic Front as a terrorist organization on June 23, 2021, citing it as "an integral and inseparable part" of the CPP-NPA that was created in April 1973. (PNA)