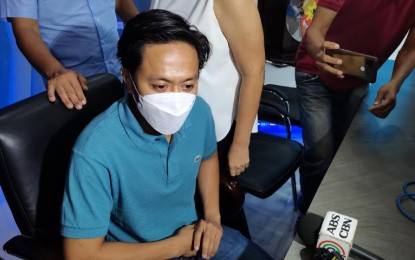 MANILA – The driver of the sports utility vehicle (SUV) who was caught on video running over a security guard in Mandaluyong City last June 5 surrendered to authorities on Wednesday.
Jose Antonio Sanvicente, 34, was accompanied by his parents and their lawyer, Danny Macalino, when he appeared at the Philippine National Police (PNP) headquarters in Camp Crame, Quezon City.
They also turned over the SUV with plate number NCO 3781, which was involved in the incident.
"My apologies sa nangyari (over what happened), my apologies to Mr. (Christian Joseph) Floralde at sa kanyang pamilya (and to his family)," Sanvicente said in a press conference, where he was presented by PNP officer-in-charge, Lt. Gen. Vicente Danao Jr.
Pressed by the media on the events surrounding the incident, Sanvicente, however, said he could not clearly remember what really happened.
"The events that occurred are now blurred in my mind. My mind is in chaos at the time. I cannot think properly now," he said in mixed English and Filipino.
Sanvicente's mother, who refused to be named, said they decided to surrender and face the people following the warning issued by Danao.
In the same briefing, Sanvicente's father, Joel, said several policemen went to their house and allegedly confronted him as he is the registered owner of the vehicle.
"I told them that I am not the registered owner. I am Joel Sanvicente and my son is Jose Antonio (Sanvicente)," he said.
He explained that the address that was reflected in the car's registration with the Land Transportation Office (LTO) was their residence because he bought the vehicle for his son who was the driver of the car when the incident occurred.
The older Sanvicente said it was Macalino who appeared at the Mandaluyong City Police and he was reported to have asked for police assistance to reach out to the family of victim Floralde.
The father said he also panicked at that time after realizing how serious the trouble his son got into.
"I cannot think well because it was not a natural accident so the first thing that I did is to contact a lawyer. I think it was natural for such kind of accident to call a lawyer as I could not think well because it's my son," he said.
Since then, Joel said he has been consulting Macalino regarding the matter.
The younger Sanvicente likewise denied that he is a drug addict.
Macalino, meanwhile, said Sanvicente's parents are not condoning their son over the incident.
"Hindi niya gustong mangyari yung aksidente. Nagkataon lang natakot siya, nag-panic siya. Kailangan magpakita si Anton (Sanvicente's nickname) nang personal para mahayag niya ang totoong nangyari at saka mag-extend ng apology sa publiko. Ito si Anton pumunta nga dito. Sabi ko sa parents niya, kailangan magpakita siya at saka yung ginamit na dina-drive niyang SUV (He didn't want the accident to happen. Coincidentally, he was scared and he panicked. Anton has to appear in person so that he can reveal what really happened and then extend the apology to the public. This is Anton and he came here. I told his parents, he had to show up and then surrender the SUV he used to drive)," Macalino said.
He also denied rumors that they had called Floralde's camp for a settlement.
The Sanvicente family promised to shoulder all medical expenses of Floralde.
Danao, meanwhile, said the case can now be considered "solved".
"Well as far as the PNP is concerned, we consider this case solved considering that we already filed the case and the person of interest or suspect voluntarily gave up to clear the matters at hand. So we are now leaving to the prosecutor's office, to the courts on the proper venue to answer the matters at hand. It is now in their hands and we do not want to further comment because it might prejudice the results of the matter at hand sa court," Danao said.
Sanvicente is facing charges of frustrated murder and violation of Article 275 of the Revised Penal Code or abandonment of persons in danger.
The Sanvicentes then went home after facing the media and promised to show up during the preliminary investigation of the case at the Mandaluyong City Prosecutor's Office set on Friday.
Floralde earlier said he will not accept any settlement and would want Sanvicente to face the charges against him in court.
The victim was directing traffic at the corner of Julia Vargas Ave. and St. Francis Street in Barangay Wack-Wack when the SUV drove by Sanvicente did not stop as directed and instead bumped and ran over him.
Sanvicente fled the scene while Floralde underwent treatment for four days in a hospital. (PNA)