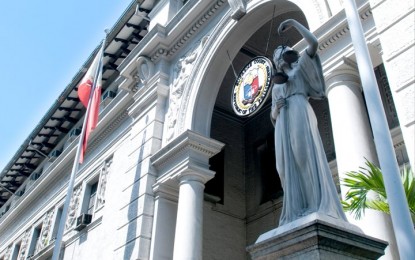 MANILA – The Supreme Court (SC) has turned down an appeal filed by a dismissed Bulacan judge after the latter did not show remorse over her acts which prompted the court to dismiss her from the judiciary and ban her from government service 13 years ago.
In its decision uploaded June 13, the SC en banc turned down the petition for judicial clemency of former Malolos City, Bulacan regional trial court (RTC Br. 10) Judge Victoria Villalon-Pornillos.
The case against Pornillos arose from an anonymous administrative complaint in 2005 filed by "Concerned Lawyers of Bulacan" accusing the magistrate of corruption including instances related to election protests in the mayoral race in San Rafael, Baliuag, and Angat.
The complaint also said Pornillos maintained relationships with her driver and bodyguards, borrowed money from her staff and court officers.
An investigation by the Office of the Court Administrator (OCA) confirmed that much of the accusation was hearsay but confirmed that the judge had indeed obtained loans from court personnel and lawyers and likewise always arrived late for court if at all and left early.
On July 7, 2009, the SC dismissed Pornillos after finding her guilty of gross misconduct, undue delay in rendering decision or orders and violation of SC rules, directives and circulars.
The court also ordered the forfeiture of all retirement benefits and with prejudice to reemployment in the government service.
Pornillos filed a petition for judicial clemency on October 5, 2020.
"In fine, respondent's lack of remorse and persistent demonstration of impenitence, self-righteousness and even, vindictiveness, renders her undeserving of judicial clemency," the court said.
It is the second time the high court set aside the judge's petition for judicial clemency, the last time was in 2017 where the court said she "still fails to exhibit remorse for her past misdeeds".
The judge insisted she was summarily dismissed and claimed the court's decision is null and void as she was not given an opportunity to be heard, was denied the right to a fair trial and denied the right to cross-examine the complainants. (PNA)