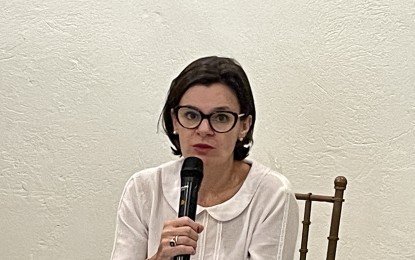 LAOAG CITY – Another ambassador to the Philippines, this time from the United Kingdom, visited the province of Ilocos Norte for two days to enhance mutual cooperation on renewable energy and green infrastructure among others.
Amazed by Ilocos Norte's scenic and cultural landscapes, pristine beaches, and vast farmlands to name a few, British Ambassador to the Philippines Laure Beaufils said a team from the Ilocos Norte government presented a strong investment plan that offers huge opportunities for investors and those who wish to expand business in this northern gateway of Luzon.
Barely two weeks ago, Danish Ambassador to the Philippines Grete Sillasen also visited the province and like Beaufils who is on a first-time visit, she got a long-lasting impression about Ilocos Norte's green initiatives for a sustainable environment.
"I am delighted that Ilocos Norte is a member of the Powering Past Coal Alliance (PPCA) that signed up to reduce emissions and be held accountable for that," said Beaufils on Wednesday, lauding the Ilocos Norte government's commitment to making the province more livable, sustainable, and resilient.
Early on, the province passed a resolution eliminating coal from its electricity supply to preserve natural resources. It aims to transition to 100 percent renewable energy.
The PPCA membership will help the region tap into its huge renewable energy potential to meet its energy needs, making polluting coal plants unnecessary.
According to the British envoy, the UK government can partner with the Ilocos Norte government on climate change mitigation and extend assistance on how people can adapt to the unavoidable circumstances of climate change.
In the UK, the British government has been funding a range of innovative projects to save more lives in emergencies such as earthquakes, floods, and famines.
For instance, Smartphone applications, super buckets, and satellite technology are helping people survive major disasters. The strategy focuses on improving the use of cutting-edge technology and innovation in responding to large-scale earthquakes, floods, and famines in a bid to get more help to more people in the aftermath of a disaster.
Earlier this year, the ambassadors of Singapore, Australia, and Denmark also paid a visit to the province as well. (PNA)