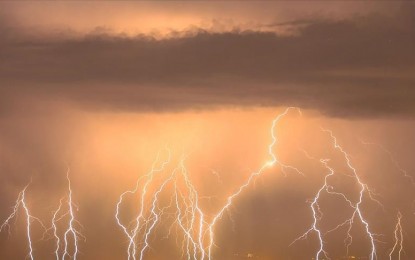 MALASIQUI, Pangasinan – Authorities are warning residents to take precautionary measures as lightning incidents have already killed three individuals in Pangasinan from May 1 to June 15 this year.
In a phone interview on Wednesday, Pangasinan Police Provincial Office information officer, Maj. Ria Tacderan, said most of the victims were in an open area while a thunderstorm was ongoing.
"It is better to stay indoors during a thunderstorm to be safe," she said.
The Pangasinan Provincial Disaster Risk Reduction and Management Office (PDRRMO) has published several reminders to prevent accidents during a thunderstorm.
"Stop all outdoor activities and get inside the house, building, or car with a sturdy roof. Remove the appliances and gadgets from the outlet and turn off the appliances, such as the television. Stay away from windows and doors as well as on terraces. Stay away from electric posts, tall trees, and those in open areas. Wait for 30 minutes from the last lightning or thunder before going out," the PDRRMO said.
Tacderan said the latest of the three lighting incidents was in Barangay Nibaliw in Mabini town, Pangasinan on June 12 when a lightning struck on a mango tree situated in a rice field and killed a 40-year-old farmer.
"The victim, with four other farmers, was resting at a nipa hut when a thunderstorm occurred and a strong lightning struck them. The victims were immediately rushed to a nearby hospital but Marcelo Flores was declared dead on arrival at the hospital," she said.
She added other victims sustained injuries in the different parts of their bodies.
Tacderan said two minors were also killed by lightning on May 26 in Barangay Aserda Mapandan town, and on May 15 in Barangay Cobol in San Carlos City. (PNA)