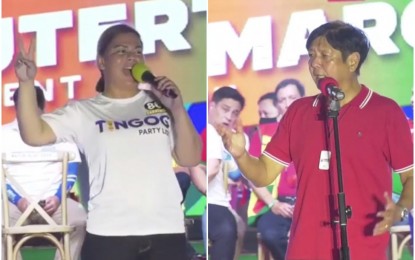 MANILA – Leyte Rep. Martin Romualdez on Wednesday said a "brighter future" and a "better life" awaits Filipinos under the leadership of President-elect Ferdinand "Bongbong" Marcos Jr. and incoming Vice President Sara Duterte amid challenges of high inflation and borrowing costs.
During his ceremonial oath-taking as Leyte's first district representative in Tacloban City, Romualdez said that for the first time in more than three decades, the country would have a President and Vice President "working as a team" as they campaigned as the Marcos-Duterte UniTeam tandem.
"I am fortunate to have seen, up close, the dynamics between President-elect Bongbong Marcos and Vice-President-elect Inday Sara Duterte. Their relationship is one of mutual respect and one guided by the duty to serve the Filipino. This energetic tandem, I am sure, will work hand-in-hand to help improve the living condition of our people," he said.
Romualdez said the biggest challenge the incoming administration would face is reducing poverty through the attainment of inclusive growth.
"Inclusive growth. Dapat pakinabangan ng lahat ang biyaya ng pag-unlad (Everyone should benefit from the fruits of progress). That is what we aim for in Tacloban and even in the whole of Eastern Visayas in the next three years under my next term as your Representative in the 19th Congress," Romualdez said.
He added that achieving such a goal may be a "tall order," given that inflation is rising, the budget deficit is widening and the global economic outlook is bleak.
"But the election of dynamic and compassionate leaders at the highest levels of government gives us all hope of a brighter future," he said.
He noted that for the first time since 1986, Marcos, as a majority President with an overwhelming mandate that he received from the Filipino voters, would steer the nation in the direction "that we all desire--one that is anchored on his message of unity and his vision of Filipino nationhood."
Romualdez also pointed out that the nation also elected Duterte, who is known for her strong conviction and compassionate leadership.
"Her tenacity in demanding quality service from public servants of Davao City is known— a legend of its own— not only in the region but in other parts of the country. Her concern for the welfare of the poor and the marginalized lies at the core of her character, guiding all her decisions as the city's top executive. I have no doubt that she will serve as the best Vice President we will ever have," he said.
He said the May 9 elections were a "triumph of democracy, the power of one's vote and the voice of the majority."
Romualdez also cited the victors for their "magnanimity" and their opponents for their "graciousness."
"Their conduct and demeanor in the campaign as well as their acceptance of the will of the people made the just concluded election one of most peaceful and orderly ever," Romualdez said. (PNA)