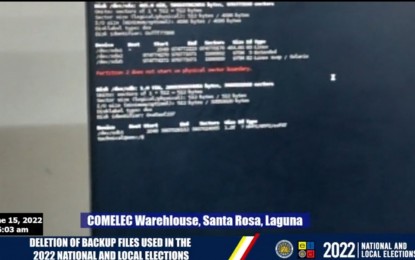 MANILA – The Commission on Elections (Comelec) on Wednesday has deleted files from servers that were used in the May 9 National and Local Elections (NLE).
Comelec acting spokesperson John Rex Laudiangco said the activity was witnessed by political parties and citizens' arm groups at the Comelec warehouse in Sta. Rosa, Laguna.
"What we did was to back up the files in the server, then deleted the same at the server. Thereby securing all election files by way of back up hard drive media," Laudiangco told reporters.
Those deleted were the backup files contained in backup hard drives, which included list of precincts, serialized ballot templates, candidates' profiles, among others.
"The other way around, we are preserving the data in the servers as a matter of protocol, in case it will be needed for election protests, as well as in case a precautionary protection order will be issued," he added.
The activity aims to ensure that there are no files left on the server, which may be maliciously accessed and used for unlawful purposes.
"In this manner too, the servers can be re-purposed for other uses, at the same time ensuring full security of all election files extracted therefrom," Laudiangco said.
"These are regular servers which can be used in the IT infrastructure and ecosystem of Comelec," he added. (PNA)