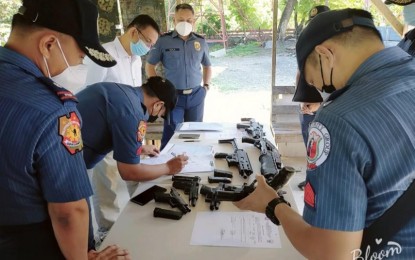 BAGUIO CITY – The Police Provincial Office (PPO) in Abra has received on June 15 nine assorted firearms originally registered under Pilar Mayor Mark Roland "Maro" Somera and his sister, Vice Mayor Josephine "Jaja" Somera-Disono, after the Philippine National Police (PNP) headquarters canceled the firearms' licenses.
"The mayor surrendered the firearms because the national office has granted the revocation of the licenses of the firearms registered to them," Capt. Marnie Abellanida, Police Regional Office-Cordillera (PROCor) information officer said in a phone interview on Wednesday.
He said the nine firearms, eight of them registered under the mayor's name– a cal. 40 Glock GEN 4 pistol, a cal.357 Smith and Wesson revolver, a cal.45 Glock pistol, a 12 gauge SPAS shotgun, a cal. 9mm CZ pistol, a cal.9mm STRBOG pistol, a cal.9mm MOSSBERG pistol, a cal.-45 ARMSCOR M1911 ROCK STD pistol, and the 12 gauge shotgun registered under the name of the vice mayor.
Abellanida said the nine firearms are different from the ones turned over to the Abra police in April.
"Nagkaroon kasi ng negotiation noon pagkatapos ng insidente kaya naiturn-over nila ang 14 tapos ang mga pulis natin nagfile ng revocation of license at na-grant iyon kaya tinurn-over ni mayor ang natira (there was a negotiation after the incident that led to the mayor and vice mayor turning-over 14 firearms and our police later filed for the revocation of license which was recently granted which prompted the mayor to turn-over the nine guns)," he said.
He said all the firearms of the Someras are now with the police and are forfeited in favor of the government after their licenses were canceled.
On March 29, an alleged shootout happened in Pilar, Abra that later led to the declaration of the place under the control of the Commission on Elections.
A case was also filed by the Abra police against the vice mayor for frustrated murder, while the National Bureau of Investigation has filed a case for murder against several policemen in Abra including Regional Director Brig. Gen. Ronald Lee. (PNA)