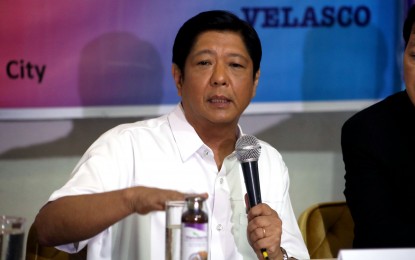 MANILA – There is a conspiracy to pillory President-elect Ferdinand "Bongbong" Marcos Jr. in an attempt to taint his reputation, former Senate President Juan Ponce Enrile bared Wednesday.
Citing information from "credible" source, Enrile cautioned that certain groups from the United States (US) and the Philippines are purportedly conniving to put Marcos to trouble.
"I just picked up what I consider to be a credible information that there are groups in America and in the Philippines planning and preparing to cause serious embarrassment and trouble for our newly-elected President," he said in a Facebook post.
Enrile did not elaborate on the supposed collusion to tarnish the image of Marcos.
He, however, said he would give further details to the "proper official" of the incoming Marcos administration "in due time."
"Caution is the name of the game. You are just starting you[r] travel in troubled waters. Your adversaries have not stopped. To borrow a phrase from someone, right now 'they are hiding their brightness and biding their time,'" Enrile said.
Enrile also advised the incoming security officials of the Marcos administration to intensify their intelligence gathering.
He said taking "soft and pacific" stance to appease critics is not a good idea.
"I have a humble unsolicited advice for the national security officials of the new regime. Instead of making soft and pacific statements seemingly intended to quiet and to gain the cooperation, trust, and confidence of the habitual trouble makers in this country, I suggest that they should sharpen their intelligence information," Enrile said.
Enrile's warning came just barely two weeks before the oath-taking of Marcos as the country's 17th president.
Marcos' inauguration will be held at the National Museum of the Philippines in Manila on June 30. (PNA)