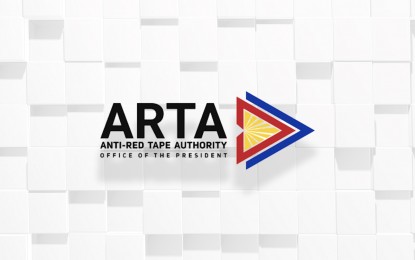 MANILA – Anti-Red Tape Authority (ARTA) Officer-in-Charge Ernesto Perez said Wednesday he will ensure that the operations of the agency will continue to provide unhampered reforms in improving public services despite the suspension of five suspended officials over the issuance of a resolution on automatic approval of the application of NOW Telecom for the frequencies now owned by DITO Telecommunity Corp.
Perez, in a statement, however, admitted that there will be challenges in the agency under his watch following the graft complaints filed against ARTA Director-General Jeremiah Belgica, Deputy Director-General Eduardo Bringas, Legal Director Melamy Salvadora-Asperin, Legal Division Chief Sheryl Pura Sumagui, and former Legal Director Jedrek Ng.
The five executives are placed under a six-month preventive suspension by the Office of the Ombudsman following the graft complaints filed by DITO.
DITO alleged that ARTA's resolution to automatically approve the long-standing application of NOWTel, even way back in 2009, for the radio frequencies had directly affected its rights as the new major player and assignee of the frequencies.
The suspended ARTA officials issued a resolution to automatically approve the application of NOWTel guided by the 3-7-20 rule, wherein it should only take three days for simple, seven days for complex, and 20 days for highly technical transactions.
"We maintain that the said officials were merely implementing the automatic approval provision of (Republic Act) 11032. This game-changing provision has fast-tracked the release of permits, licenses, clearances, and authorizations for various projects that benefited the country," Perez said.
ARTA earlier said the decision was also guided by the legal opinion of the Office of the Solicitor General on March 2, 2020, stating that ARTA has jurisdiction over quasi-judicial agencies.
The Office of the Secretary of Justice, however, ruled in 2021 that the 3-7-20 rule does not cover the assignment or grant of radio frequency, which is quasi-judicial in nature.
"I must admit, though, that the authority of ARTA to implement the automatic approval provision of the law has now been limited by the final and executory Resolution of the Secretary of Justice in an arbitration case brought by the National Telecommunications Commission (NTC) who ruled that ARTA has no jurisdiction over the NTC's quasi-judicial function of issuing telecommunications franchises," Perez said.
He added that the agency will abide by the ruling of the Secretary of Justice "until it is reversed or set aside by higher authorities, either by executive, judicial, or legislative action".
"We reiterate our full faith in the majesty of the laws and the institutions, particularly with the Office of the Ombudsman, to resolve the case strictly on the merits and in accordance with due process of law," Perez said. (PNA)