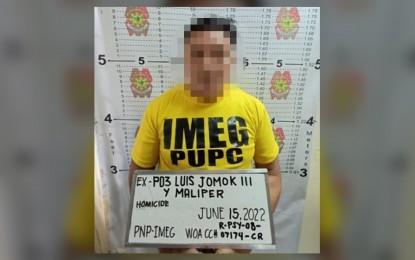 MANILA – Members of the anti-scalawag unit of the Philippine National Police (PNP) have arrested a dismissed police officer wanted for homicide in Taytay, Rizal on Wednesday.
In a statement Thursday, Brig. Gen. Samuel Nacion, chief of the Integrity Monitoring and Enforcement Group (IMEG), identified the suspect as Luis Jomok III in an operation in Barangay Dolores at around 11:27 a.m.
The suspect has a standing arrest warrant issued by the Pasay City Regional Trial Court in September last year over his involvement in a shooting incident in August 2008 that resulted in the death of victim Billy Lozada.
On June 3, Nacion said authorities received information on the suspect's sighting in the village which they immediately verified.
He added that on June 4, the suspect was spotted at his store in the village based on the information from neighbors.
"During his arrest, PSSg Luis M Jomok III even offered PHP2 million as bribe money to the arresting personnel in exchange for not effecting the arrest. Hence, we will be filing a complaint against the suspect for violating Article 212, Corruption of Public Officials of the Revised Penal Code, for his attempt to bribe our personnel." Nacion said.
The suspect was subsequently brought to the PNP IMEG headquarters in Camp Crame, Quezon City. (PNA)