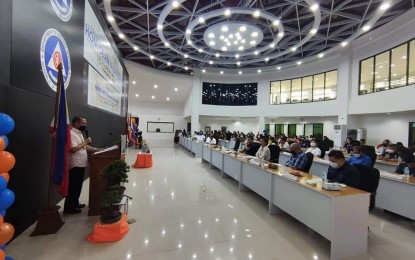 MANILA – The Office of Civil Defense (OCD)'s focus to build alternate government command and control centers (GCCCs) is part of its efforts to ensure that there will be continuity of service even in times of emergencies.
"The construction of this alternate command center is part of our endeavor to ensure continuity of operations and to strengthen our capacity in providing services to the public in times of emergency," OCD deputy administrator for administration, Assistant Secretary Hernando Caraig Jr. said in a statement Thursday, following the inauguration of a newly-built GCCC in Butuan City.
Caraig said the GCCCs are a testament to the government's continuous commitment to further enhancing capabilities in disaster risk reduction management towards the attainment of its mission to build safer and resilient communities.
He also noted the importance of modernization and the establishment of responsive critical facilities in providing effective delivery of services in times of disaster.
The alternate GCCCs will operate similarly to the NDRRM Operations Center and will use satellite communications with real-time video, voice, and data transmission.
Information and communications technology (ICT) equipment including video wall system, projector, and network-attached storage, high-frequency based radio are installed in the facilities.
These GCCCs will serve as backup hubs to ensure continuity of emergency operations in the event of disasters or any incidents that may compromise the functionality of the NDRRM Operations Center in Camp Aguinaldo, Quezon City.
The two other GCCCs are in Nueva Ecija, and Cebu. OCD recently inaugurated the GCCC at Fort Magsaysay, Nueva Ecija on April 29, 2022.
The Department of Public Works and Highways under its FY 2019 General Appropriations Act funded the GCCC construction in Visayas and Mindanao while the Department of National Defense under its quick response fund funded the facility in Luzon.
The establishment of the facility is pursuant to President Rodrigo Roa Duterte's directive on Dec. 5, 2017, ordering the construction of alternate GCCCs in three major islands of the country. (PNA)