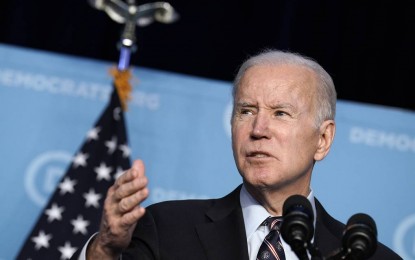 WASHINGTON – President Joe Biden said Wednesday the US is providing Ukraine with an additional USD1 billion in security assistance as Russia's war enters its fourth month.
The announcement came in a telephone call with Ukraine's President Volodymyr Zelenskyy to discuss the war, during which the US president said he reaffirmed his commitment that Washington will stand with Kyiv against Moscow's aggression.
"I informed President Zelenskyy that the United States is providing another USD1 billion in security assistance for Ukraine, including additional artillery and coastal defense weapons, as well as ammunition for the artillery and advanced rocket systems that the Ukrainians need to support their defensive operations in the Donbas," Biden said in a statement.
The US president also announced USD225 million in humanitarian assistance to help Ukrainians inside the war-hit country. That funding will tackle supplying safe drinking water, critical medical supplies and health care, food, shelter, and cash for families to purchase essential items, said Biden.
"The bravery, resilience, and determination of the Ukrainian people continues to inspire the world. And the United States, together with our allies and partners, will not waver in our commitment to the Ukrainian people as they fight for their freedom," he added.
After failing to capture northern Ukraine, Russia began its offensive on the eastern regions of Donetsk and Luhansk in April. Kremlin forces have been making slow if steady advances there amid mounting humanitarian suffering.
At least 4,452 civilians have been killed and 5,531injured in Ukraine since Russia began its war on Feb. 24, with the true toll believed to be much higher, according to the latest UN estimates.
More than 6.98 million people have fled to other countries, while 7.7 million have been internally displaced. (Anadolu)