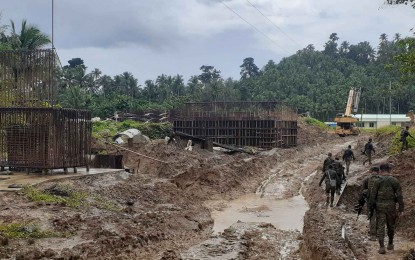 TACLOBAN CITY – Land distribution and poor road networks are the two top issues raised by conflict-stricken communities in seven Northern Samar towns for the crafting of the Barangay Development Program (BDP), the Philippine Army said on Thursday.
These two key issues were presented during the four-day pre-area clearing evaluation led by Philippine Army 8th Infantry Division commander Maj. Gen. Edgardo De Leon and 20th Infantry Battalion commander Lt. Col. Joemar Buban.
2nd Lt. Joyce Ann Bayron, the Army's 20th IB spokesperson, said land distribution is on the top of the list of issues identified in 32 out of 39 villages previously infiltrated by the New People's Army (NPA) citing the findings of the Community Support Program (CSP) teams.
The CSP teams bared 29 out of 39 villages from the seven towns badly needing farm-to-market roads and bridges, Bayron said in a message to the Philippine News Agency (PNA).
CSP is the military's people-centered program to bring peace and development to conflict-affected barangays and to bring the government closer to the people through an immediate delivery of basic services.
"The main purpose of the said evaluation activities is to verify the accuracy of the findings of every CSP team in the conflict-affected villages. Likewise, identified issues were presented to the local officials for resolution crafting," Bayron said.
Other issues raised are crop harvest sharing, low wages for farm workers, high farm production cost, the low buying price of farm produce, absence of potable water, lack of medical facilities and personnel, latrines, and irrigation systems.
These issues will be highly considered in the BDP, a hallmark program of the National Task Force to End Local Communist Armed Conflict (NTF-ELCAC), which brings progress to former conflict-prone communities.
The activity also highlighted the role of town and village officials in crafting the BDP, annual investment programs, and local peace and order public safety plan that will highly contribute to the peace and development within their respective communities.
"During the said engagement, the said activity has motivated and enlightened the local task force-ELCAC in taking necessary actions to build essential picture of peace and order through the denouncement of the atrocities made by the communist NPA terrorists," Bayron added.
Northern Samar is considered the hotbed of the communist terrorist group due to its thick forest and poor road networks.
The high incidence of poverty in Northern Samar makes people in upland communities vulnerable to the persuasion of the Communist Party of the Philippines-NPA-National Democratic Front (CPP-NPA-NDF).
The CPP-NPA is listed as a terrorist organization by the United States, European Union, the United Kingdom, Australia, Canada, New Zealand, and the Philippines.
The Anti-Terrorism Council also formally designated the NDF as a terrorist organization on June 23, 2021, citing it as "an integral and inseparable part" of the CPP-NPA that was created in April 1973. (PNA)