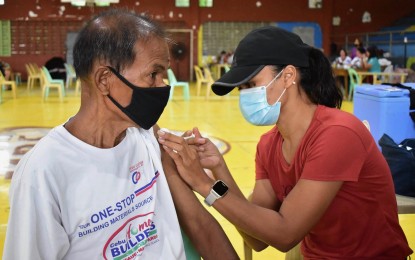 DUMAGUETE CITY – Health authorities in Negros Oriental are scrambling to locate and inoculate some 300,000 residents against the coronavirus disease 2019 (Covid-19) in the province following the order of the National Vaccination Operations Center (NVOC) to accomplish this by June 30.
Assistant Provincial Health Officer Dr. Liland Estacion, in an interview on Thursday, said the NVOC wants the province to increase its vaccination rate by the end of the term of President Rodrigo Duterte this month.
"I have to admit, though, that it will be a big challenge for us to find these people and convince them to avail of the free vaccines, considering that majority of them are in the hinterlands," Estacion said in mixed English and Cebuano.
On Tuesday, a World Health Organization (WHO) representative arrived here to inspect and monitor the inoculation rollout in the province, alongside the Provincial Health Office, she said.
"The WHO representative will depart on Friday and will make an official report to higher authorities. The province's status will depend on whatever is the outcome of that report and so we are praying that our efforts will not go unnoticed," Estacion said. "The sad part is that many of these people continue to refuse the vaccine for a variety of reasons, such as believing myths being spread around, or lacking in information on its benefits, or worse, unfounded fear of adverse effects."
Some are even carrying an exemption card with them, which Estacion said is not recognized by the PHO and other health authorities, including WHO.
"We have not issued any exemption cards and while it is true that vaccination is not mandatory, these supposed exemption cards cannot be used for official purposes, at least as far as my office is concerned," she said.
As of June 15, the province of Negros Oriental has logged a total of 664,497 individuals who are already fully vaccinated, including those who received the one-shot Janssen vaccine. This represents 57.8 percent of the adjusted total target of 1,148,423.
The province also tallied 599,309 individuals given the first dose and if they had availed of the second dose in recent days, "it will raise our accomplishment bar a little bit", Estacion said.
The national government announced on Wednesday that the province of Negros Oriental remains under Alert Level 2 except for Amlan, Bacong, Dauin, Dumaguete City, Valencia, and Zamboanguita which are under Alert Level 1. (PNA)