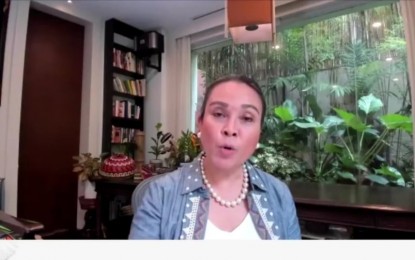 MANILA – The development as a nation should be pursued with the end goal that everyone should benefit from the country's economic gains, returning Senator Loren Legarda said on Thursday.
During the Development Academy of the Philippines' (DAP) Thursday Talks: Webinar Series on Socio-Political and Economic Perspectives, Legarda said progress should not be measured by the country's infrastructure or urban development alone, but by looking at the quality of life, the welfare, and well-being of every Filipino.
"Because in the midst of this rapid pace of urbanization, the challenge lies in ensuring that those in the grassroots of the society actually benefit from the government's efforts to provide basic services," Legarda said thanking DAP for choosing as their topic for the webinar the Republic Act (RA) 9501 or the Micro, Small and Medium Enterprises (MSME) Act which she authored and sponsored way back in 2008.
Legarda said the purpose of RA 9501 was to develop the Filipino entrepreneurial spirit by providing a business environment that was supportive and conducive to it.
RA 9501 defined MSME as any enterprise engaged in industry, agribusiness or services, whose total assets are not more than PHP3 million for micro; between PHP3 million and PHP15 million for small; and PHP15 million to PHP100 million for medium.
The MSME Law, Legarda said, provides assistance to entrepreneurs by requiring lending institutions to allocate at least 8 percent, an increase from the previous 6 percent, of their total loan portfolio to micro and small businesses.
"The law also provides access to new technologies and regular entrepreneurship training programs for workers. Created under the Act is the Small and Medium Enterprise Development (SMED) Council that establishes and supervises Negosyo Centers throughout the country," she said.
Legarda noted that MSMEs accounted for 99.51 percent of the nation's businesses in 2020 which resulted in an estimated 5,380,815 jobs or 62.66 pecent of the country's total employment.
"With these statistics, the vital role of MSMEs in economic growth and poverty alleviation cannot be overemphasized. MSMEs have a huge potential in becoming the main driver of our economic development and, given sufficient attention and support, this sector will no doubt accelerate the socio-economic empowerment of various sectors in the society, including women, youth, and the indigenous communities," she added.
The Department of Trade and Industry (DTI) reported that the majority or 21.10 percent of the MSMEs can be found in the National Capital Region (NCR).
DTI also said the top 5 industries are in wholesale and retail trade, food service, automotive parts, manufacturing, service industries, and insurance
These industries, DTI said, account for about 83.77 percent of the total number of MSME establishments.
Meanwhile, Legarda called for massive information dissemination and also asked local authorities to look deeper into the needs of the local entrepreneurs and indigenous communities to provide the exact kind of assistance that they need.
"Let us continue to expand the scope of our assistance, especially those in areas with high poverty incidence. We need to identify those who have skills and indigenous resources but are unable to register or acquire the usual permits so that we can open up more opportunities for them," she said.
Following Legarda, Go Negosyo Executive Director Thermina Ann Akram and Department of Science and Technology National Capital Region (DOST-NCR) Regional Director Jose Patalinjug III also discussed inclusive growth and recovery strategies and legislative measures for MSMEs.
Under its Capability Building on Innovative Leadership for Legislative Staff (CBILLS) Program, DAP's Thursday Talks Webinar Series, which is being streamed live on Facebook, aims to discuss topics that are relevant to the changing socio-political and economic landscape of the country. (PNA)