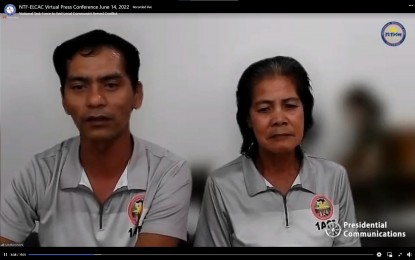 MANILA – Former members of the Communist Party of the Philippines-New People's Army-National Democratic Front (CPP-NPA-NDF) said the communist terrorist group is planning to muddle the oath-taking ceremony of President-elect Ferdinand "Bongbong" Marcos Jr. on June 30.
During the Tagged media briefing by the National Task Force to End Local Communist Armed Conflict (NTF ELCAC) on Monday, former rebels Orlando "Ka Warly" Baluyot, now chairman of Tinang Samahang Nayon Multi-Purpose Cooperative, and Ka Pong Sibayan, a farmer from Hacienda Tinang in Concepcion, Tarlac said the CTGs have started organizing farmers in their province.
They said aside from Hacienda Tinang, officials and members of CPP-NPA-NDF legal front organizations have also been meeting with farmers from nearby Hacienda Murcia and Barangay Central inside Hacienda Luisita.
"Iyon ang nakita natin na gagawin nila sa June 30 bago maupo si Pangulong Bongbong Marcos (That is what we see that they will do on June 30, before President Bongbong Marcos assumes the post)," Baluyot said.
He said farmers from these areas are now organized by the front groups.
"Katunayan, nagkaroon na ng mga talakayan sa Hacienda Murcia. Iyong Hacienda Murcia ay part din ng Tarlac City na kung saan malapit na malapit din ito sa Hacienda Tinang (There are meetings in Hacienda Murcia, also in Tarlac City, which is very near Hacienda Tinang)," he added.
Baluyot said these farmers are also having problems with their land and have been allegedly receiving eviction threats.
He added some members of left-leaning organizations are often seen coming to those areas as they want the people to fight the government.
"Talagang ayaw nilang maupo si Bongbong Marcos. Talagang patunay na talagang magkukuwan na naman ang kabilang grupo sa Barangay Murcia at Barangay Central. Kasi sa barangay Central, mayroon ding nagsasabi sa amin na mga Anakpawis na nagkukuwan doon. Sa Barangay Murcia naman ang nagkukuwan sa kanila diyan kaya alam ko na balak ng Anakpawis – si Atty. Jobert Pahilga ang attorney nila diyan – na agawin iyong lupang nabili ng mga mall diyan (They really do not want Bongbong Marcos to sit. We can attest that they are having activities with the other group in Barangay Murcia and Barangay Central. In Barangay Central, some people tell us that there are members of Anakpawis there. In Barangay Murcia, it is Atty. Jobert Pahilga, their lawyer there, because from I know, Anakpawis plans to seize the lands bought by the malls there)," Sibayan said.
He said aside from the areas in Tarlac that they have named, different front organizations are also busy mobilizing groups from various towns even using youth members in their propaganda.
Sibayan said these youth groups, who are "not aware they are only being used", are actually victims.
With this, he called on the parents to strictly monitor their children.
"Kaya kawawa iyong mga kabataan na dapat ang mga magulang ay bantayan (nila) dahil walang ginagawa itong kabilang grupo dito (kung hindi) ipahamak ang mga kabataan. Dapat maawa sila sa mga magulang nila. Kung gusto nilang tumulong, bakit hindi sila tumulong sa gobyerno para mahinto na ang kaguluhan? Pero sa ginagawa naman nila, ang gusto nila sila iyong gobyerno. Kabaligtaran (I pity these young people thus their parents should watch over them because these groups are putting them in danger. These youth should pity their parents. If they want to help, they should cooperate with the government to stop all these violence. But from what they are doing, it's the other way around, they want to govern)," Sibayan said.
Meanwhile, former Senate President Juan Ponce Enrile bared on Wednesday there is a conspiracy to pillory Marcos in an attempt to taint his reputation.
Enrile said the information came from "credible" sources, saying certain groups from the United States and the Philippines are allegedly conniving to embarrass Marcos.
"I just picked up what I consider to be credible information that there are groups in America and in the Philippines planning and preparing to cause serious embarrassment and trouble for our newly-elected President," he said in a Facebook post.
While not elaborating on the alleged plot, Enrile said he would provide further details to the "proper official" of the incoming Marcos administration "in due time."
"Caution is the name of the game. You are just starting you(r) travel in troubled waters. Your adversaries have not stopped. To borrow a phrase from someone, right now 'they are hiding their brightness and biding their time'", he said.
Enrile also advised the incoming security officials of the Marcos administration to intensify and sharpen their intelligence gathering.
Marcos' inauguration is scheduled to be held on June 30 at the National Museum of the Philippines in Manila. (PNA)