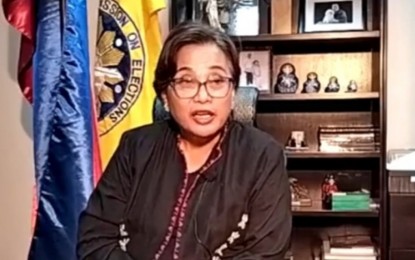 MANILA – The public is free to question the nomination of former Commission on Elections (Comelec) Commissioner Rowena Guanzon, as one of the nominees of Komunidad ng Pamilya, Pasyente at Persons with Disabilities (P3PWD) party-list.
"Verified petition to deny due course and/or cancellation - Section 1, Comelec Resolution No. 9366, may be filed by any person exclusively on the ground that a material misrepresentation has been committed in the qualification of nominees," acting poll body spokesperson John Rex Laudiangco said in a statement on Thursday.
He said the petitions should be filed within five days after the publication of the list of nominees.
"Verified Petition for disqualification; Section 2 of the same Resolution - may be filed by any person when the nominee has been declared by final decision of a competent court guilty of, or found by the Commission of having: given money or other material consideration to influence, induce or corrupt the voters or public officials performing electoral functions; Committed acts of terrorism to enhance his candidacy; spent in the campaign an amount in excess of that allowed by law; solicited, received or made any contribution prohibited under Sections 89, 95, 96, 97 and 104 of the Omnibus Election Code; or violated any of Sections 83, 86 and 261, paragraphs d, e, k, v and cc, sib-paragraph 6 of the Omnibus Election Code," the poll body official added.
The petitions must be filed with the Office of the Clerk of the Commission, Laudiangco said.
The P3PWD party-list has been given until June 19 or within five days from their submission on June 14 to publish the list of its new nominees in two newspapers of nationwide general circulation.
On Wednesday, the poll body's en banc approved the new list of nominees of the group, whose first nominee is the former poll body Commissioner. She retired last February.
The Comelec also accepted the resignation of the organization's first set of nominees. (PNA)