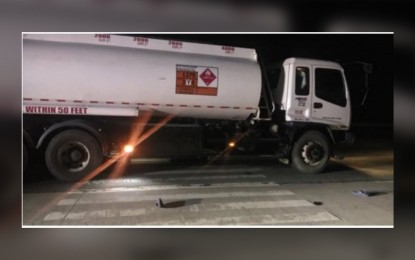 MANILA – A fuel tanker carrying PHP1.5 million worth of bunker fuel was hijacked in Quezon Province early Wednesday while authorities captured one of the three suspects in the incident.
Quezon police provincial director Col. Joel Villanueva on Thursday identified the suspect as Vincent Reyes, 31. Two others, Phillip Magtanggol and a certain alias 'Joli', managed to escape.
Reyes was arrested after authorities tracked him through his mobile phone that was left inside the tanker.
Police officers recovered the tanker owned by 4M Transport & Sales Corporation with plate number NBM 5519 loaded with 10,000 liters of crude oil and 10,000 liters of unleaded gasoline.
Initial reports showed the tanker left the depot of Azora Holding Inc. in Barangay Castañas in Sariaya town at around 11:30 p.m. Tuesday and was headed to Lucena City.
A few minutes after it left the depot, the suspects boarded the tanker and asked the driver, Eman Molejon, to convey them until they reached the Eco Tourism Road, to which the driver agreed.
However, the suspects instructed Molejon at gunpoint to move to the backseat where they blindfolded him and tied his hands.
After being unloaded from the vehicle, Molejon managed to untie himself and sought help from police officers patrolling the area.
The police officers chased the tanker at the junction of Eco Tourism Road in Barangay Manggalang Bantilan.
The suspects jumped from the tanker and scampered to a dark and grassy portion of the road. A manhunt is underway for the two other suspects. (PNA)