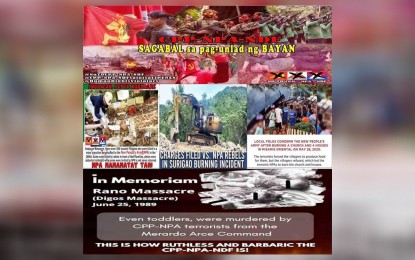 MANILA – An online petition has been launched on the web calling for the takedown and a permanent ban of websites and internet platforms by the communist terrorist groups.
In a message sent to the Philippine News Agency on Thursday, former Communist Party of the Philippines-New People's Army-National Democratic Front (CPP-NPA-NDF) cadre Jeffrey "Ka Eric" Celiz said the petition was filed on Wednesday via the online platform Change.org used to initiate petitions, campaigns, and mobilize supporters.
Celiz is the secretary-general of a national organization of former rebels dubbed Sentrong Alyansa Ng Mga Mamamayan Para Sa Bayan (Sambayanan),
"The online petition was launched by former rebels and cadres from the CPP-NPA-NDF yesterday. This action aims to formally address the pervasive problem on the unrestricted information environment, including the internet platform, which has been exploited by the communist terrorist groups like the CPP-NPA-NDF," he said.
As of posting, the online petition has gathered 341 signatures.
Celiz said they are targeting to gather at least 5,000 signatures online, as part of their benchmark.
"This is the collective will and consolidated call of the Filipino people to petition concerned authorities to act immediately on the abuse of internet media platform of the Communist Party of the Philippines-New People's Army-National Democratic Front or the CPP-NPA-NDF, where they openly promote, sponsor and advance the agenda of terrorism," the online petition read.
The petition https://www.change.org/p/sovereign-petition-of-the-filipino-people specifically calls on concerned authorities to take down and perpetually ban The Philippine Revolution Web Central https://cpp.ph, the website of the National Democratic Front of the Philippines (NDFP) https://ndf.org, and other websites that continuously provide timely news and information, including statements from the CPP and allied organizations of the NDFP.
The petition also states that the CPP and all revolutionary forces will continue to utilize and maximize all available platforms on the internet to be able to promote, defend, and advance their agenda of terrorism.
The CPP-NPA-NDF has been committing terroristic activities in the country, such as destructive arson, assassination, and mass murder of children and state security forces for over 50 years now.
It has used internet media platforms in their recruitment and extremist radicalization of Filipino youth and children.
"Terrorism and those who promote or sponsor such don't deserve any access to our information channels as these would only further their capabilities to destroy our people such as what the CPP-NPA-NDF and their colluders have been doing," Celiz said.
He said the fight against communist terrorism needs to have the broadest support and participation of the people.
To attain the objective, the various avenues of struggle, including the information war and information channels, must be included, he added.
The CPP-NPA is listed as a terrorist organization by the United States, European Union, the United Kingdom, Australia, Canada, New Zealand, and the Philippines.
The Anti-Terrorism Council also formally designated the NDF as a terrorist organization on June 23, 2021, citing it as "an integral and separate part" of the CPP-NPA that was created in April 1973. (PNA)