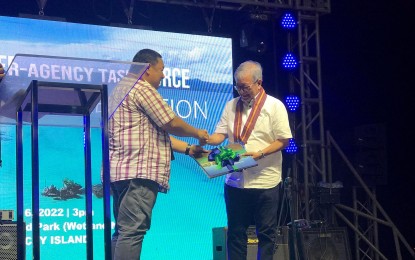 ILOILO CITY – The leaders of the province of Aklan and the municipality of Malay on Thursday formally accepted the challenge to continue the rehabilitation of Boracay Island as the task force created to carry out the restoration will end its mandate on June 30.
Acting Department of Environment and Natural Resources (DENR) Secretary Jim Sampulna, chair of the Boracay Inter-Agency Task Force (BIATF), led the turnover to Aklan Governor Florencio Miraflores and Malay Mayor Frolibar Bautista during the culminating activity at the Balabag Wetland Park in Barangay Balabag, Boracay Island in Malay.
"This turnover means our responsibility will be turned over to the local government unit. We are now turning over to you, the Boracay," he said in his message.
Sampulna added that Executive Order (EO) 53 which created the BIATF only lasted up to May 22, 2020 but was extended through EO 115 until May 8, 2021, and finally until June 30, 2022 through EO 147.
The challenge now is for the local government to maintain cleanliness and sanitation, including the discipline of the people, he said.
"The BIATF will be there to assist you but we will no longer be in the frontline," Sampulna added.
Miraflores, who will be stepping down as governor at the end of this month, vowed that the province will continue to preserve all the works
implemented on the island.
"We accept the challenge of how to be able to sustain the gains of the island and we will assure you that as a senior adviser to the governor-elect Joen Miraflores, the continuity of our programs will be made sure in the coming years to come," Miraflores said. The incoming governor is Miraflores' son.
In his acceptance message, the outgoing governor acknowledged former environment secretary Roy Cimatu, whom he said had twice helped Boracay.
The first was when the latter as a colonel in the military helped eradicate insurgency in Aklan in the late 1980s, and the second was the restoration of Boracay to what it was before.
He said Cimatu, who was also present during the event, is Aklan's favorite son and will never be forgotten.
Bautista, in his message, said the people of Malay will be truly faithful to the programs left behind by the task force.
"We commit our responsibility, that we will see to it that it is maintained and will continue to serve its purpose for the people of Malay," he added.
Cimatu, who personally supervised the six months rehabilitation from April 26 to October 26, 2018, said the mayor who is entrusted with the responsibility for the island after June 30 is left with a demanding test.
The new president, he said, may leave the local government unit to manage Boracay, extend the term of the BIATF or wait for the outcome of the proposed Boracay Island Development Authority (BIDA), which is now pending before Congress.
"Whatever happens, you have a tall order," he said, adding that BIATF is still ready if again be given the mandate. (PNA)