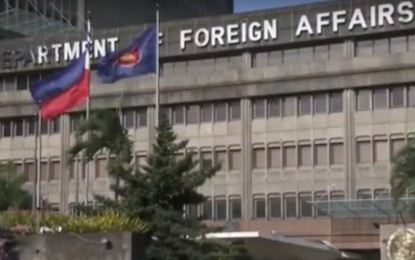 MANILA – The Department of Foreign Affairs (DFA) chided a columnist on Thursday following his "malicious and groundless comments" over the country's diplomatic protests against Beijing's illegal activities in the South China Sea.
The concerned column, titled "DFA protests controlled by the US State Department", was penned by Phil-BRICS Strategic Studies Director Mario Ferdinand Pasion in his New World column in the Manila Times on June 12.
In a statement, the DFA said diplomatic protests are lodged automatically once a "transgression" by a foreign country has been verified.
"Most of the Department's protests have been undertaken against China, simply because it is the country that has been conducting the most illegal and provocative actions in the WPS (West Philippine Sea)," it said.
"These activities range from the harassment of Filipino fishermen, shadowing and harassment of PH maritime assets, unauthorized marine scientific research, and non-innocent passage in the Philippines' archipelagic waters, even during military exercises," it added.
The agency denied insinuations that the Philippines filed the protests on behalf of any entity.
"The DFA, as the chief implementer of an independent foreign policy, as mandated by the Philippine Constitution, is not beholden to any foreign entity and serves only the interests of the Philippines and the Filipino people," the DFA said.
"The Department protests any act by foreign entities that threaten and undermine the country's territorial integrity, sovereignty and legitimate maritime entitlements," it added.
It explained that a note verbale is lodged based on recommendations and reports from the National Task Force for the West Philippine Sea (NTF-WPS).
Under the Duterte administration, the DFA has filed over 300 protests against "unprovoked Chinese illegal activities in the West Philippine Sea."
In the same vein, it fired six protests against illegal activities by Vietnam in the Philippines' legitimate maritime zones.
"The timing and publication of information on diplomatic protests is the sole prerogative of the DFA and of no other entity. Unless this framework is changed by the next administration, protests will continue to be filed," it said. (PNA)