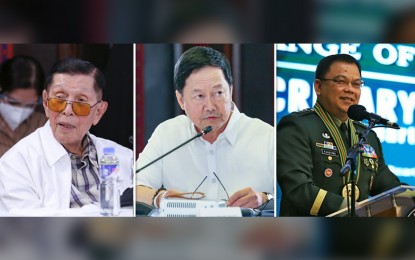 MANILA – President-elect Ferdinand "Bongbong" Marcos Jr. named former Senate president Juan Ponce Enrile, outgoing Justice Secretary Menardo Guevarra, and retired Armed Forces of the Philippines (AFP) chief Jose Faustino Jr. as his new appointees in his Cabinet.
Enrile will re-enter public service as Marcos' Presidential Legal Counsel-designate, Press Secretary-designate Trixie Cruz-Angeles said in a press statement.
Cruz-Angeles said Enrile accepted Marcos' offer and vowed to serve the country and ensure the success of the incoming administration.
"I will devote my time and knowledge for the republic and for BBM (Bongbong Marcos) because I want him to succeed," Cruz-Angeles quoted Enrile as saying.
Enrile is one of the personalities who supported Marcos' presidential bid.
The announcement of Enrile's nomination came two days after he bared the supposed plot by certain groups in the United States and the Philippines to "cause serious embarrassment and trouble for our newly elected President."
Enrile, 98, served in government for over 50 years.
He was acting Finance secretary from 1966 to 1968, Justice secretary from 1968 to 1970, and Minister of National Defense from 1972 to 1986.
He spent four terms in the Senate and became the 21st Senate President during the 15th Congress from 2008 to 2013.
Enrile also served one term in the House of Representatives as representative of Cagayan's first district.
In 2016, Enrile announced his retirement from public service. However, he joined the 2019 senatorial race but failed to secure a Senate seat.
Apart from Enrile, Guevarra will also be joining the Marcos Cabinet as Solicitor General, Cruz-Angeles said.
She said Guevarra accepted the nomination during his meeting with Marcos at the President-elect's headquarters in Mandaluyong City on Thursday.
Guevarra was chosen for his "sterling performance as a lawyer for over 30 years," Cruz-Angeles added.
Guevarra earned his political science degree and graduated magna cum laude at the Ateneo de Manila University in 1974.
He obtained his Master's in Economics degree from the University of the Philippines and took up law at the Ateneo School of Law.
Guevarra, who placed second in the 1985 bar examinations, became a private lawyer in 1986 and started teaching civil law, criminal law, and administrative litigation at the Ateneo's law school in 1990.
He also worked at the National Economic and Development Authority (NEDA) from 1977 to 1983.
Guevarra was the Deputy Executive Secretary before being named to head the Justice department in 2018, replacing Vitaliano Aguirre II.
Faustino, meanwhile, was designated by Marcos as Senior Undersecretary and Officer-in-Charge of the Department of National Defense (DND).
Cruz-Angeles said Faustino, who retired as AFP chief on Nov. 12, 2021, will later assume as DND Secretary on November 13, or a year after serving the one-year ban on the appointment of retired military officers under Republic Act 6975.
She said Faustino's situation was similar to the case of outgoing Interior Secretary Eduardo Año who was designated by President Rodrigo Duterte as officer-in-charge and later assumed the Secretary position after the appointment ban lapsed.
Faustino accepted the post when he met with Marcos on Thursday.
Faustino, a graduate of the "Maringal" Class of 1988, is a Mindanao veteran who has served under the special forces, infantry, and intelligence posts.
He was also the commander of the Joint Task Force Mindanao and was a commanding General of the Philippine Army before being appointed as the 56th AFP Chief of Staff.
Marcos now has 23 Cabinet appointees.
He earlier nominated his long-time chief of staff and spokesperson Vic Rodriguez as Executive Secretary, Vice President-elect Sara Duterte-Carpio as Education secretary, and Davao del Norte Rep. Anton Lagdameo Jr. as Special Assistant to the President.
Marcos also named Arsenio Balisacan as NEDA secretary, Benjamin Diokno as Finance secretary, Amenah Pangandaman as Budget secretary, Alfred Pascual as Trade Secretary, and Felipe Medalla as Bangko Sentral ng Pilipinas governor.
The other nominees to Marcos' Cabinet were Cruz-Angeles as Press secretary, Cavite Rep. Jesus Crispin Remulla as Justice secretary, Bienvenido Laguesma as Labor secretary, Susan Ople as Migrant Workers secretary, Manuel Bonoan as Public Works secretary, and Benjamin Abalos Jr. as Interior secretary.
Marcos also tapped Erwin Tulfo as Social Welfare secretary, Ivan John Enrile Uy as Information Communications and Technology secretary, Christina Frasco as Tourism secretary, Zenaida Angping as head of the Presidential Management Staff, Clarita Carlos as National Security Adviser, and Conrado Estrella III as Agrarian Reform secretary. (PNA)