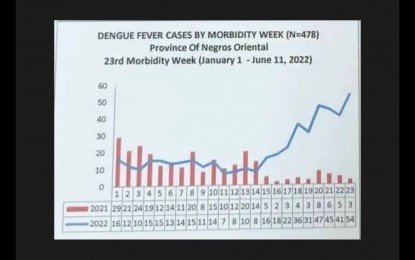 DUMAGUETE CITY – The number of dengue cases in Negros Oriental spiked in the second quarter, prompting a key health official to advise people to be proactive in preventing an outbreak this rainy season.
Assistant Provincial Health Officer Dr. Liland Estacion said in an interview Friday that the increase in cases is not yet alarming but it could get worse over the next weeks if unchecked.
"This is what we call the epidemic year, or that time every three years when dengue cases are expected to rise because the mosquito carrier of the virus is endemic to our province," she said in mixed English and Cebuano.
The latest weekly report from the Department of Health (DOH)-Regional Epidemiological Surveillance Unit here said that from January 1 to June 11, the province logged 478 dengue cases and three deaths, which is 44 percent higher than the 268 cases and zero deaths during the same period last year.
The three areas with the highest number of dengue cases are Canlaon City with 133; Bayawan City, with 48; and this city, with 47.
Estacion said they are closely monitoring Canlaon City because of the continuing rise in dengue cases reported in Barangays Panubigan, Mabigo, Malaiba, Linuthangan, Masulog and Aquino.
Meanwhile, fogging with chemicals can be done to eradicate breeding places of mosquitoes but she said this practice, now called "misting" must be carried out with caution.
"It has to be used only when there is a surge of cases as we have to also consider the safety of the populace," she said. (PNA)