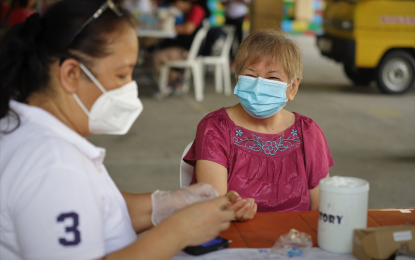 MANILA – Officials of Quezon City's 142 villages have been ordered to strictly implement the wearing of face masks as the local government retained "yellow" status under its monitoring system due to the continued rise in Covid-19 cases.
Face masks must be worn at all times in indoor and outdoor settings, the city government ordered on Friday.
The Department of Public Order and Safety and Task Force Disiplina (Discipline) will help village officials in enforcing the use of face masks.
In his report, City Epidemiology and Disease Surveillance Unit chief Rolando Cruz said that as of Thursday, there are 286 active cases, up from 240 two days earlier.
"Our monitoring tells us that the rate of infection is not slowing down. We hope to bring the cases down again before we reach the red status where we can assume community transmission," he said.
Cruz said three other indicators have reached the threshold -- average daily attack, 1.10 percent; average positivity rate, 3.4 percent from 1.8 on June 11; and forecasted reproduction number, 2.5 percent from 1.12 last week.
"Yellow" status is declared in the city when cases increase from the previous week and when three of four indicators have increased from normal to above normal. There is also the possibility of a surge within the next 14 days
When cases continue to rise and all other indicators remain high or have breached the indicated threshold, there is a surge and "red" status is implemented.
"Aside from the implementation of prevention strategies, now is also the critical time for barangays and all relevant city departments to ramp up preparedness and response actions such as the stocking up on personal protective equipment and re-opening of isolation facilities," Cruz said.
In another statement also on Friday, Mayor Joy Belmonte encouraged residents who are still unvaccinated, have not completed their primary shots or have no booster shots yet to avail of the free jabs.
The QC Task Force Vax to Normal data as of June 11 showed that only 887,630 of the 2.4 million who are fully vaccinated have the first booster shot while 47,538 health care workers, senior citizens, and immunocompromised adults have second booster shots.
"We cannot strictly enforce social distancing because we have just recently reopened our economies, so we are appealing to everyone to mask up and get vaccinated or boosted instead," Belmonte said. (PNA)