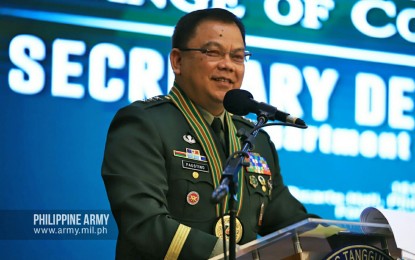 MANILA – Outgoing Department of National Defense (DND) Secretary Delfin Lorenzana on Friday said he is confident that former Armed Forces of the Philippines (AFP) chief, Gen. Jose C. Faustino Jr., is capable of continuing the gains achieved by the agency in its various initiatives.
"I am confident that with his years of dedicated service as a military officer, General Faustino will continue the Department's momentum in our internal security and external defense operations, as well as the modernization of the armed forces and the entire defense organization," he said.
Lorenzana also expressed confidence that Faustino will be updated on all of his tasks as officer-in-charge (OIC) of the DND, as he retired only on November 12 last year.
Also, Lorenzana said he welcomes President-elect Ferdinand "Bongbong" Marcos Jr.'s decision to select Faustino as the incoming OIC of the DND.
"I look forward to working with General Faustino and his team in the transition period leading up to June 30," he added.
Faustino will assume as Defense Secretary on November 13, after the one-year appointment ban on retired military officials.
Faustino took over the AFP leadership from Gen. Cirilito Sobejana who retired from military service on July 31, 2021.
Prior to his assumption as the 56th AFP chief-of-staff, Faustino was the head of the Joint Task Force Mindanao and has also served as the acting commanding general of the Philippine Army.
He is a member of the Philippine Military Academy Class of 1988. Faustino likewise held various military positions such as battalion and brigade commander in Western Mindanao and chief of the Eastern Mindanao Command among others. (PNA)