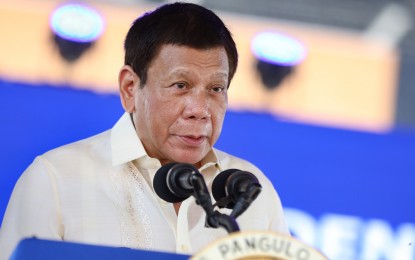 MANILA – President Rodrigo Duterte remains firm with his commitment to eradicating illegal drugs until his last days in office, considering there are several politicians linked to the narcotics trade, Malacañang said Friday.
This, after Duterte earlier took a swipe anew at former Iloilo City Mayor Jed Patrick Mabilog for being one of the local officials who have allegedly benefited from the drug war.
"The President's remarks on Iloilo City Mayor Jed Mabilog reflect his resolute stance against narcopolitics," acting Presidential Spokesperson and Communications Secretary Martin Andanar said in a press statement.
Duterte, Andanar said, is giving emphasis to Mabilog's case to encourage the incoming administration to continue his anti-narcotics campaign.
"President Duterte expects his Administration's very successful anti-drug campaign, where millions have voluntarily surrendered to authorities, will be continued by the incoming Administration," he said.
On Sunday, Duterte was convinced that Mabilog, accused of protecting drug lords, will remain in hiding for another six years.
Duterte issued the statement emphasizing that the drug problem in the country should be taken seriously.
Duterte accused Mabilog of protecting the supposed drug syndicate of Melvin Odicta, the alleged drug lord who was killed in 2017.
Mabilog has not returned to the country after attending a disaster management summit in Japan and an urban environment accords forum in Malaysia in 2017.
His wife and children have also left the country.
The Office of the Ombudsman in October 2017 dismissed Mabilog for his supposed failure to fully declare his wealth. The Court of Appeals reversed the decision in a 2021 ruling, but Duterte continued to tag Mabilog as one of the so-called narco-politicians.
Duterte earlier urged his successor, President-elect Ferdinand "Bongbong" Marcos Jr., to continue his anti-narcotics campaign, given the gravity of the drug problem in the country and its possible resurgence.
Marcos, for his part, vowed to continue the drug war and sought to go after big-time drug dealers. (PNA)