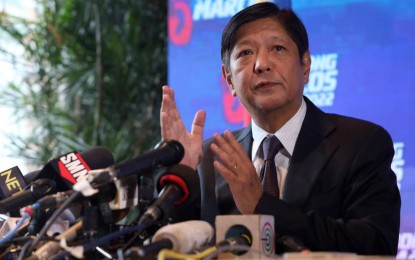 MANILA – The Philippine National Police (PNP) and the National Task Force to End Local Communist Armed Conflict (NTF-ELCAC) are more than willing to secure President-elect Ferdinand "Bongbong'' Marcos Jr. against threats posed by the communist movement.
Speaking to reporters on Thursday, Department of the Interior and Local Government (DILG) Secretary Eduardo Año said they have yet to confirm the information from incoming Chief Presidential Legal Counsel and former senator Juan Ponce Enrile regarding groups that may create chaos and try to harm Marcos.
Enrile did not provide specific details but Año asserted that it is safe to assume that the Communist Party of the Philippines-New People's Army (CPP-NPA) has plans on the matter.
"Sa ngayon (At present), we are not privy to a specific intelligence report, but we can surmise the CPP-NPA and its cohorts are actually, have the intent to cause embarrassment to president-elect Bongbong Marcos. Kasi itong mga maka-kaliwang grupo na to, right from the start, kahit sinong umupong presidente, palaging ganoon ang kanilang ginagawa (Because this leftist groups right from the start always to that whoever sits as the President),'' he noted.
In terms of security preparations, PNP director for operations, Maj. Gen. Valeriano de Leon disclosed that they have not received any serious threat on the inauguration of Marcos and Vice President-elect Sara Duterte amid Enrile's warning.
"But we do not discount every information that reaches our office. Right now, we are validating some raw information but be that as it may, the PNP, the AFP, and other LGUs are ready to help in ensuring peace and order in the inauguration sites," de Leon said in a statement.
De Leon also said that during the inauguration on June 30, large LED TVs will be set up in strategic areas in Metro Manila and other parts of the country to accommodate as many supporters of Marcos to witness his inauguration.
De Leon said all police regional directors are now coordinating with the camp of Marcos and various local government units to identify the ideal locations where the LED TVs will be set up.
"The PNP is now coordinating with the camp of President-elect Bong bong Marcos to seek permission to talk with the administrators of these big LED walls. This is for the benefit of everybody, especially of the supporters because they need not go to the National Museum to witness the event," said de Leon.
In the case of the inauguration of Duterte on June 19, de Leon said the same strategy will be employed as at least six big LED TVs will be set up in Davao City to decongest the site of the inauguration.
He explained that as majority winners in the recently-concluded May elections, the PNP is expecting that a large number of supporters of President-elect Marcos and Vice President-elect Duterte- Carpio would be present to witness the oath-taking.
De Leon explained that the oathtaking sites could not accommodate a large number of people.
At the National Museum, for instance, he said only 1,200 people could be accommodated.
But he said they are now coordinating with the management of the golf course of Intramuros in Manila, which is located across the National Museum, if they could allow more people to enter to witness the event.
The golf course, according to De Leon, could accommodate up to 10,000 people.
"But as much as possible, we want to limit the number of people in the oathtaking site for security purposes. This is where the use of LED TVs will be strategic and useful as far as the security cluster is concerned," said De Leon.
So instead of going to the inauguration site, supporters could watch the entire event live at the comfort of the areas nearest to their homes," he added.
Road closures
Meanwhile, National Capital Region Police Office (NCRPO) director Maj. Gen. Felipe Natividad assured that they have contingency plans in case of other problems.
"We have not monitored any threat ahead as of this moment but we are continuously and closely monitoring and coordinating with our counterparts," Natividad said in a separate statement.
According to NCRPO chief that several road closures, the one-kilometer radius of the National Museum will be declared a no-fly zone for drones and aircraft, while several ports and waterways near the establishment have also been inspected.
The following roads will be closed to the public:
-Stretch of Padre Burgos Avenue from Taft Avenue to Roxas Boulevard
-Stretch of Finance Road from Padre Burgos to Taft
-Stretch of T.M. Kalaw Avenue from Taft to Roxas Boulevard
-Stretch of Maria Orosa Street from Padre Burgos to Kalaw
-Stretch of General Luna Street from Padre Burgos to Muralla Street
-Stretch of C. Victoria Street from Taft to Muralla
-Stretch of Ayala Boulevard, from General Solano Street, crossing Ayala Bridge, to Taft Avenue
"To ensure success, zero casualties, and any untoward incident in the upcoming inauguration, final security preparation has been finalized and laid down. This is to guarantee a smooth transition of political leadership in the country amid the continuing threat of the current health crisis," he said.
"Relative to this, the airspace within a one-kilometer radius of the National Museum will be declared as 'no-fly and no drone flying zone' as well as all the ports and waterways will be secured to preempt entry of would-be saboteurs," he added.
Backpacks also not be allowed in all VIP areas to ensure the safety of everyone.
A gun ban will also be in effect in the Davao Region from June 16 to 21 and in Metro Manila from June 27 to July 2. (PNA)