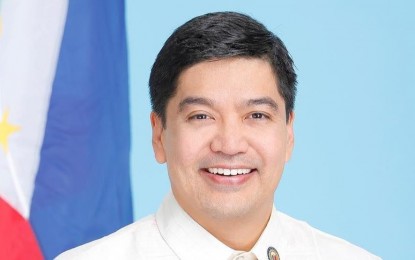 MANILA – A lawmaker on Friday said the new law creating the Office of Judiciary Marshals (OJM) would not only provide better security to trial judges but also facilitate the efficient delivery of justice in the country.
In a statement on Friday, Camarines Sur Representative Luis Raymund Villafuerte said President Rodrigo Duterte's signing of Republic Act (RA) No. 11691 or the Judiciary Marshals Act is the right step in strengthening the country's judicial system.
Villafuerte said it is also "timely" given the increasing number of attacks against judges in the Philippines in recent years, citing Philippine Judges Association (PJA) data showing that five judges have been killed since 2017-- totaling 31 active judges killed since 1999.
He noted that only 10 percent of these killings were solved.
"When our judges and justices feel safe, secure and protected, they can render their rulings on cases more efficiently, without feeling threatened or harassed," said Villafuerte.
He said the law is patterned after the United States Marshals Service and provides that the officials and personnel of the OJM shall possess suitable and adequate firearms for the proper safety and protection of the justices, judges, court officials, and personnel.
Muntinlupa Rep. Ruffy Biazon, an author of the measure, said the OJM shall be primarily responsible for the protection and security of the members of the judiciary, judicial personnel, the courts, and other court assets.
"There is a need to provide our magistrates and judges a secure environment where they will be able to perform this gargantuan task of rendering fair and just decisions amidst all threats to their lives and those of the members of their families," he said.
Biazon said it can also investigate allegations of irregularities, including graft and corrupt practices, committed by justices, judges, court officials, and court personnel, and assist in the execution and implementation of court orders.
Under the law, the OJM shall conduct threat assessments, investigations and forensic analyses of crimes and threats committed against judiciary members and court properties.
The OJM will be headed by a Chief Marshal, to be assisted by three deputy marshals in charge of, assigned and stationed in Luzon, the Visayas and Mindanao, respectively.
Upon the directive of the Supreme Court (SC), the Chief Justice or the Court Administrator, the Office of the Judiciary Marshals may also issue subpoenas for the appearance of any person for investigation, apply for search warrants before any court of law, and file complaints before the Office of the Ombudsman, the Department of Justice (DOJ), or city or provincial prosecutors.
The office can also take and require sworn statements from any summoned person or administer the oath of any person in relation to cases under investigation.
It may also make arrests and conduct searches and seizures, have access overall public records under the custody of any government branch, possess suitable and adequate firearms, request assistance from law enforcement agencies, and establish a Judiciary Marshals Academy. (PNA)