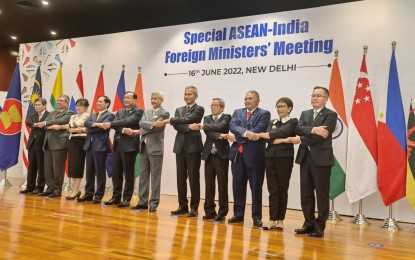 NEW DELHI – Leaders of the member states of the Association of Southeast Asian Nations (Asean) will boost existing pacts to push for a strong economic rebound amid the global health crisis.
During the two-day Special Asean-India Foreign Ministries' meeting that ended here Friday, the Asean representatives noted the "millennia-old civilization and cultural linkages" between Southeast Asia and India, wherein they recalled the milestones of the Asean-India Dialogue Relations over the last three decades.
The Asean leaders reaffirmed their commitment to further deepen this broad-based partnership to promote peace, stability, and prosperity in the region.
The Philippines was represented by Undersecretary for Administration Antonio Morales of the Department of Foreign Affairs.
The leaders appreciated India's firm commitment to Asean centrality in the evolving regional architecture, and in upholding key principles, shared values, and norms enshrined in the Charter of the United Nations, and Treaty of Amity and Cooperation in Southeast Asia.
The member states welcomed India's support for the Asean community-building process, through support for projects and initiatives under the Asean Outlook on the Indo-Pacific, Asean Community Vision 2025, Master Plan on Asean Connectivity 2025, and Initiative for Asean Integration Work Plans.
The importance of joint efforts to address the continuing challenges posed by the Covid-19 pandemic was also acknowledged as well as the mutual assistance extended by Asean member states and India, to each other.
Dr. S. Jaishankar, Indian External Affairs Minister, said the process of post-pandemic recovery had been complicated by the Russia-Ukraine conflict at a time when the Covid-19 crisis remains.
"This path has become even more arduous with geopolitical headwinds which we face due to developments in Ukraine and its knock-on effects on food and energy security, as well as fertilizer and commodities prices, and logistics and supply chain disruptions," he said in an interview.
It was the first time India hosted the special meeting with foreign ministers of Asean to mark the 30th anniversary of its ties with the 10-member group.
For the past 30 years, the Asean-India ties have been guided by the strong and deepened strategic partnership "for mutual benefit, across the whole spectrum of political, security, economic, socio-cultural and development cooperation," according to Jaishankar. (PNA)