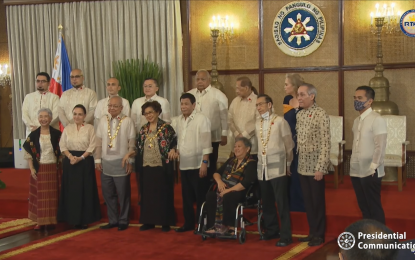 MANILA – President Rodrigo Duterte on Thursday conferred the Order of National Artists on eight personalities in Philippine culture and arts.
The conferment rites were held at the Malacañan Palace's Rizal Hall.
A short pre-recorded video clip of the ceremony was uploaded by the Radio Television Malacañang (RTVM) on its official Facebook account.
The award was given to Nora "Nora Aunor" Villamayor, Marilou Diaz-Abaya, and Ricardo Lee (National Artists for Film and Broadcast Arts); Antonio "Tony" Mabesa (National Artist for Theater); Agnes Locsin (National Artist for Dance); Fides Cuyugan-Asensio (National Artist for Music); Salvacion Lim-Higgins (National Artist for Design); and Gemino Abad (National Artist for Literature).
Lim-Higgins, Diaz-Abaya, and Mabesa were posthumously bestowed as national artists.
Aunor, who skipped the awarding ceremony, was represented by children Ian and Matet de Leon, who both followed her footsteps by joining the Philippine show business industry.
Duterte personally awarded the Order of National Artists to Lee, Locsin, Cuyugan-Asensio, and Abad.
The Order of National Artists is "a rank, a title, and a wearable award that represents the highest national recognition given to Filipinos who have made distinct contributions in the field of arts and letters," according to the briefer posted on the Official Gazette.
Each national artist will receive a gold-plated medallion minted by the Bangko Sentral ng Pilipinas and a citation, based on the guidelines issued by the National Commission for Culture and the Arts.
The National Artists will also get a life emolument and material and physical benefits comparable in value to those received by the country's highest officers.
Living awardees will be given a minimum cash award of PHP200,000, net of taxes; a monthly life pension worth PHP50,000; medical and hospitalization benefits not exceeding PHP750,000 every year; life insurance coverage; a state funeral; and a place of honor in state functions, national commemoration rites, and other cultural presentations.
A one-time minimum cash award of PHP150,000, net of taxes, will be granted to the legal heir of the deceased awardees.
To date, the country has a total of 86 national artists.
More presidential awards
Meanwhile, Duterte also conferred the Presidential Award on several Cabinet secretaries, members of the Inter-Agency Task Force for the Management of Emerging Infectious Diseases (IATF-EID), and medical experts.
The RTVM uploaded a taped video of the awarding ceremony also on Thursday at Rizal Hall.
National Task Force Against Covid-2019 (NTF) chief implementer and vaccine czar Secretary Carlito Galvez Jr. and NTF Against Covid-19 deputy chief implementer and testing czar Vivencio Dizon were among the recipients of the awards.
Joining Galvez and Dizon were Executive Secretary Salvador Medialdea, Local Government Secretary Eduardo Año, Defense Secretary Delfin Lorenzana, and Senator Christopher Lawrence Go.
Loan agreement for railway project
Duterte also led the signing ceremony for the Loan Agreement for the South Commuter Railway Project at the Palace's Heroes Hall on Thursday.
The 54.6-kilometer South Commuter Railway Project forms part of the North-South Commuter Railway (NSCR) System that will connect Metro Manila and Laguna province.
The project is set to have 18 stations traversing 10 cities including the cities of Manila, Makati, Taguig, Parañaque and Muntinlupa in Metro Manila, as well as the cities of San Pedro, Santa Rosa, Cabuyao and Calamba in Laguna.
Once finished, the railway system will reduce travel time between Manila and Calamba City from 2.5 hours to just an hour. It is envisioned to provide reliable and safe public transport to all Filipino commuters. (PNA)