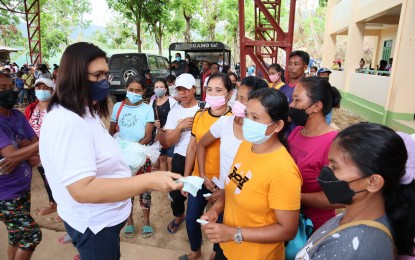 DUMAGUETE CITY – The wearing of face masks is still mandatory and highly recommended in Negros Oriental even as the province has logged a single-digit number of coronavirus disease 2019 (Covid-19) cases over the past weeks, a key health official here said Friday.
In an interview, Assistant Provincial Health Officer Dr. Liland Estacion said there is no announcement from local or provincial officials making the wearing of face masks optional especially outdoors.
"We do not recommend the optional wearing of face masks/covering as of now because even though our positive cases remain at a significantly low level, there is still the danger of people contracting the virus due to the fast transmission of the sub-variants," Estacion said in mixed English and Cebuano.
She reported six new Covid-19 cases on Thursday afternoon, although none of them were sub-variants of the Omicron variant.
The Cebu provincial government announced earlier that it would allow the optional wearing of face masks outdoors, a move that has caught the attention of national government officials.
"The province is not yet out of the loop because our reports do not reflect the real situation here with people doing self-testing with antigen test kits that are readily available over-the-counter at pharmacies," Estacion said.
As of June 16, the province's Covid-19 caseload is 23,563, broken down into 22,815 recoveries, 742 deaths, and six active cases.
Estacion said, however, that despite efforts to ramp up the inoculation in the province, hundreds of thousands of people remain unvaccinated.
She reported a "measly accomplishment" of only 4,589 individuals who were located for their first dose from June 1 to June 16.
The National Vaccination Operations Center has set the target of some 300,000 "zero-dose" persons in Negros Oriental to be vaccinated by June 30 but Estacion said this is "impossible" to reach. (PNA)