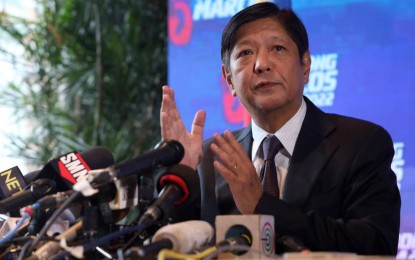 MANILA – President-elect Ferdinand "Bongbong" Marcos Jr. will take a "very measured and balanced" approach on the issue of South China Sea (SCS) disputes.
Marcos made the commitment during his meeting with one of the five diplomats on Friday.
Ambassadors Jaroslaw Szczepankiewicz of Poland, Borhan Uddin of Bangladesh, Peter Francis Tavita Kell of New Zealand, Folakemi Ibidunni Akileye of Nigeria, and Steven James Robinson of Australia paid a visit on Marcos at his headquarters in Mandaluyong City.
On the sidelines of the courtesy call, Robinson said the SCS issue was raised, noting that he assured Marcos that Australia will continue to support the Philippines' win in the arbitral case against China's sweeping claims over the contested waters.
"So, I think the President-elect is going to take a very measured and balanced approach in terms of how he approaches all of these issues to seek the best outcome he can for the Philippines. And I think any pragmatic politician would do exactly the same — to try and work out how do you get the best for your country in difficult circumstances. And that's what I'm anticipating from the President[-elect]," he said.
Robinson said he also relayed Australia's commitment to support the Philippines "as it goes forward dealing with difficult regional issues."
On July 12, 2016, the Hague-based Permanent Court of Arbitration (PCA) ruled in favor of the Philippines' petition to invalidate China's claim of supposed historic rights over almost the entire SCS.
China has ignored the PCA ruling, while the Philippines under the leadership of outgoing President Rodrigo Duterte has maintained its stance to resolve the sea disputes through peaceful and diplomatic negotiations.
Marcos, the successor of Duterte, earlier promised to uphold the SCS ruling.
On June 10, National Security Adviser-designate Clarita Carlos said the bilateral and multilateral negotiations with China to settle the SCS territorial disputes will continue under the Marcos administration.
China, the Philippines, and several other littoral states are locked in a territorial dispute over the SCS where Beijing claims around 80 percent of the strategic waters.
Currently, concerned parties are holding bilateral and multilateral talks to discuss the maritime row.
The negotiations include the crafting of the binding Code of Conduct with other members of the Association of Southeast Asian Nations. (PNA)