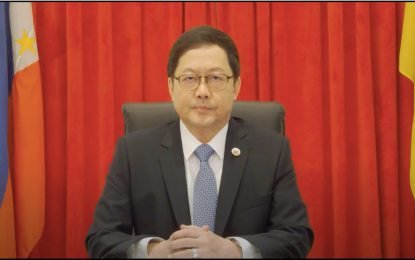 MANILA – Outgoing Department of Justice (DOJ) Secretary Menardo Guevarra feels he is better suited at the Office of the Solicitor General (OSG) than in his current position as it will allow him to practice as a lawyer.
Guevarra, who will replace Jose Calida, was also offered the OSG post 10 years ago.
"Maybe the time wasn't ripe then. Now everything's coming back to me. It's the hand of God at work," Guevarra said in a text message.
"(T)he SOJ (Secretary of Justice) is very high profile and has more administrative work, supervising many attached agencies. The SolGen position, I think, better suits me because I had been in law firm practice for 25 years," he added.
The OSG represents the Philippines, its agencies, and instrumentalities and its officials and agents in any litigation, proceeding, investigation or matter requiring the services of lawyers.
It shall also represent government-owned or controlled corporations when authorized by the President or head of the office concerned.
It is an independent and autonomous office but attached to the DOJ for budgetary purposes.
The incoming administration also announced Friday that former senator Juan Ponce Enrile will be the Presidential Legal Counsel.
Outgoing Cavite congressman and House Deputy Speaker Jesus Crispin Remulla will take over Guevarra's DOJ post.
Under Guevarra, the Duterte administration made significant progress in bridging the lack of qualified prosecutors and judges.
Guevarra said the Duterte administration had the most number of appointees of prosecutors, a key component of the President's promise to address law and order. (PNA)